Statistics
Review "As research in the language sciences becomes more interdisciplinary, students must become proficient in a wider range of data analysis methods. Johnson's text is a comprehensive and detailed introduction to some of the most widely used statistical methods in language research.
Quantitative Methods In Linguistics (9781405144254): Keith Johnson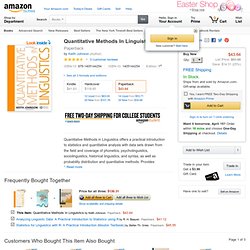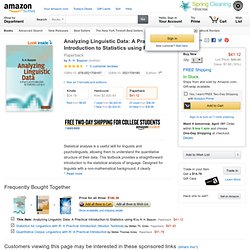 Analyzing Linguistic Data: A Practical Introduction to Statistics using R (9780521709187): R. H. Baayen
Trade in your item Get a $14.76Gift Card. Flip to back Flip to front Listen Playing... Paused You're listening to a sample of the Audible audio edition.
FREE Two-Day Shipping is available to Amazon Prime members. To join, select "Yes, I want FREE Two-Day Shipping with Amazon Prime" above the Add to Cart button and confirm your Amazon Prime free trial sign-up during checkout. Amazon Prime members enjoy: Unlimited Free Two-Day Shipping Instant streaming of over 40,000 movies and TV episodes A Kindle book to borrow for free each month - with no due dates Important: Your credit card will NOT be charged when you start your free trial or if you cancel during the trial period. If you're happy with Amazon Prime, do nothing. At the end of the free trial, your membership will automatically upgrade to an annual membership.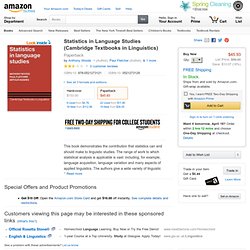 Statistics in Language Studies (Cambridge Textbooks in Linguistics) (9780521273121): Anthony Woods, Paul Fletcher, Arthur Hughes
Statistics for Linguistics with R: A Practical Introduction (Mouton Textbook) (9783110205657): Stefan Th. Gries
Book Description Publication Date: March 15, 2013 | ISBN-10: 3110307286 | ISBN-13: 978-3110307283 | Edition: 2nd Revised edition This book is the revised and extended second edition of Statistics for Linguistics with R. The comprehensive revision includes new small sections on programming topics that facilitate statistical analysis, the addition of a variety of statistical functions readers can apply to their own data, and a revision of overview sections on statistical tests and regression modeling.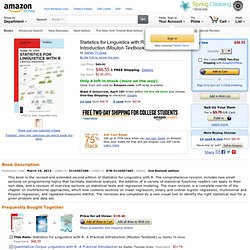 Software Resources for R Below is a list of resource pages for using R to do statistics. On each page a set of data are explored with the software.
Software Resources for R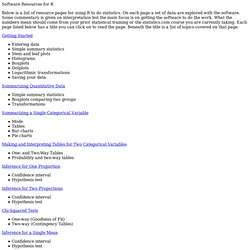 Introduction to R
Excel Charts Blog posted a video tutorial of how to create a circumplex or rose or dougnut chart in Excel. Apparently this type of chart is very popular in the consulting industry, hence the "Consultants' Chart". It is very easy to make this chart in Excel 2010, but it involves countless number of clicks and formulas to format both the source data and the chart itself. In ggplot2 the same can be achieved with around 10 lines of code, as can be seen below. Read more…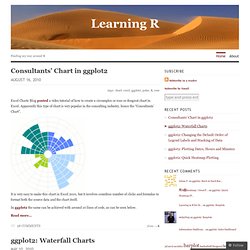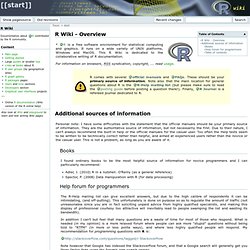 * R is a free software environment for statistical computing and graphics. It runs on a wide variety of UNIX platforms, Windows and MacOS. This R Wiki is dedicated to the collaborative writing of R documentation. For information on browsers, RSS syndication, copyright, ... read usage. R comes with several official manuals and FAQs. These should be your primary source of information.
start [R Wiki]
Basics Reading files Graphs Probability and statistics Regression Time-series analysis