Statistics
Review "As research in the language sciences becomes more interdisciplinary, students must become proficient in a wider range of data analysis methods. Johnson's text is a comprehensive and detailed introduction to some of the most widely used statistical methods in language research.
Quantitative Methods In Linguistics (9781405144254): Keith Johnson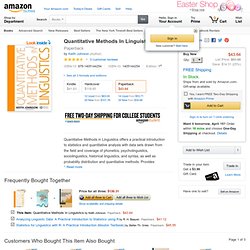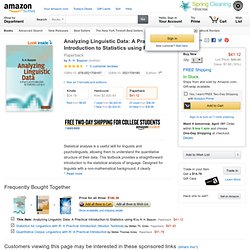 Analyzing Linguistic Data: A Practical Introduction to Statistics using R (9780521709187): R. H. Baayen
Book Description Publication Date: March 17, 2008 | ISBN-10: 0521709180 | ISBN-13: 978-0521709187 | Edition: 1 Statistical analysis is a useful skill for linguists and psycholinguists, allowing them to understand the quantitative structure of their data. This textbook provides a straightforward introduction to the statistical analysis of language.
This book demonstrates the contribution that statistics can and should make to linguistic studies. The range of work to which statistical analysis is applicable is vast: including, for example, language acquisition, language variation and many aspects of applied linguistics. The authors give a wide variety of linguistic examples to demonstrate the use of statistics in summarising data in the most appropriate way, and then making helpful inferences from the processed information. The range of techniques introduced by the book will help the reader both to evaluate and make use of literature which employs statistical analysis, and to apply statistics in their own research. Each chapter gives step-by-step explanations of particular techniques using examples from a number of fields, and is followed by extensive exercises.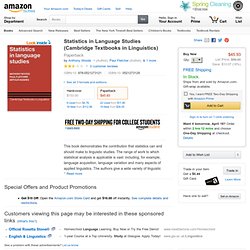 Statistics in Language Studies (Cambridge Textbooks in Linguistics) (9780521273121): Anthony Woods, Paul Fletcher, Arthur Hughes
Statistics for Linguistics with R: A Practical Introduction (Mouton Textbook) (9783110205657): Stefan Th. Gries
Book Description Publication Date: May 27, 2010 | ISBN-10: 3110205653 | ISBN-13: 978-3110205657 | Edition: 1 This book is an introduction to statistics for linguists using the open source software R. It is aimed at students and professors with little or no statistical background, is written in a non-technical and reader-friendly style, and covers the structure of quantitative studies, descriptive and analytical statistics, multifactorial approaches and simple statistical graphs.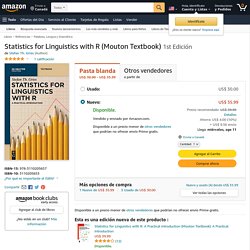 Software Resources for R Below is a list of resource pages for using R to do statistics. On each page a set of data are explored with the software.
Software Resources for R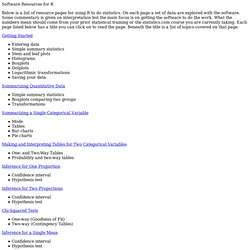 Introduction to R
Excel Charts Blog posted a video tutorial of how to create a circumplex or rose or dougnut chart in Excel. Apparently this type of chart is very popular in the consulting industry, hence the "Consultants' Chart". It is very easy to make this chart in Excel 2010, but it involves countless number of clicks and formulas to format both the source data and the chart itself. In ggplot2 the same can be achieved with around 10 lines of code, as can be seen below. Read more…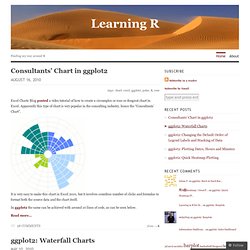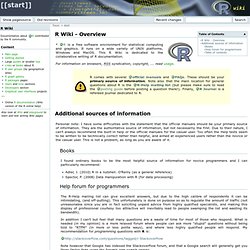 * R is a free software environment for statistical computing and graphics. It runs on a wide variety of UNIX platforms, Windows and MacOS. This R Wiki is dedicated to the collaborative writing of R documentation. For information on browsers, RSS syndication, copyright, ... read usage. R comes with several official manuals and FAQs. These should be your primary source of information.
start [R Wiki]
Basics Reading files Graphs Probability and statistics Regression Time-series analysis