Internet Society - Think Global
Imagination for People | Repérer et soutenir les projets sociaux créatifs. Internet Society (ISOC) Institute for Statistics: UNESCO Institute for Statistics. Digital Natives. Digital Natives with a Cause?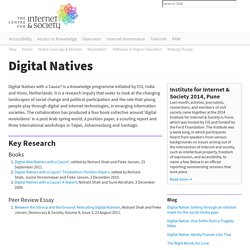 Is a knowledge programme initiated by CIS, India and Hivos, Netherlands. It is a research inquiry that seeks to look at the changing landscapes of social change and political participation and the role that young people play through digital and internet technologies, in emerging information societies. Accessibility. India has an estimated 70 million disabled persons who are unable to read printed materials due to some form of physical, sensory, cognitive or other disability.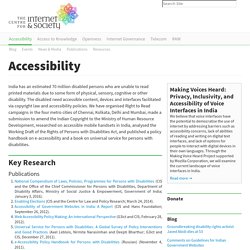 The disabled need accessible content, devices and interfaces facilitated via copyright law and accessibility policies. We have organised Right to Read campaigns in the four metro cities of Chennai, Kolkata, Delhi and Mumbai, made a submission to amend the Indian Copyright to the Ministry of Human Resource Development, researched on accessible mobile handsets in India, analysed the Working Draft of the Rights of Persons with Disabilities Act, and published a policy handbook on e-accessibility and a book on universal service for persons with disabilities.
Books Universal Service for Persons with Disabilities: A Global Survey of Policy Interventions and Good Practices , G3ict & CIS, authored by Axel Leblois, Nirmita Narasimhan and Deepti Bharthur, 27 December 2011.
---