Free Software
UDK - Unreal Development Kit - Epic Games. Lightworks. Blog Tool and Publishing Platform. 10 Best Linux Distros for 2011. Choice and flexibility are the hallmarks of the Linux ecosystem.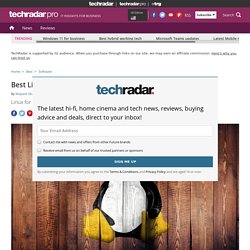 In Windows and OS X, if you don't like some aspects of the operating system, there's not much you can do about it. Not so in the Linux world, where thanks to the numerous distributions you are in fact spoilt for choice. Each distro has the Linux kernel at its core, but builds on top of that with their own selection of other components, depending on the target audience for the distro. VLC Media Player. Apache.
Creative Docs .NET - Get Creative! Graphics. Free Audio Editor and Recorder. LAME MP3 Encoder. RazorLame | A LAME Front-end - open source encoding MP3 files. RazorLame 1.1.5 available, new site look, new forum Lots of new stuff!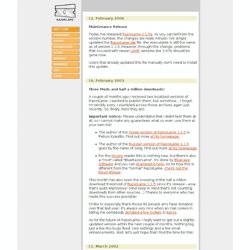 Most important: a new stable release of RazorLame is finally available! Get it from the download page! The most obvious news is that the site got a nice new overhaul thanks to the skills of TB2 ! I find it incredible that, somehow, RazorLame is related to the official Lord of the Rings Winamp skin . GnuCash Free Accounting Software. OpenOffice.org - The Free and Open Productivity Suite. LibreOffice.
---