Free Software
What is UDK? The Unreal Development Kit is the free edition of Unreal Engine 3 that provides access to the award-winning 3D game engine and professional toolset used in blockbuster video game development, architectural visualization, mobile game development, 3D rendering, digital films and more. Who is it for? Unreal Engine technology is used by game developers, researchers, television studios, machinima directors, artists and students.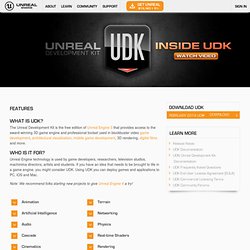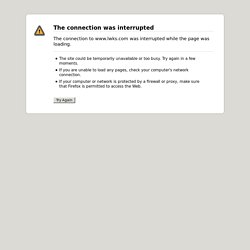 Wednesday, 23 May 2012 15:20 Last Updated on Monday, 04 November 2013 08:07 Written by Daniel Butler Lightworks NLE - Designed by editors, for editors Some of the finest films of the past 20 years have been edited with Lightworks. We're proud of its heritage and we want to share it with you. Read more about Lightworks and discover why Oscar-winning editors across the world use it every day.
WordPress is web software you can use to create a beautiful website or blog. We like to say that WordPress is both free and priceless at the same time. The core software is built by hundreds of community volunteers, and when you're ready for more there are thousands of plugins and themes available to transform your site into almost anything you can imagine. Over 60 million people have chosen WordPress to power the place on the web they call "home" — we'd love you to join the family. Ready to get started? Download WordPress 3.8.1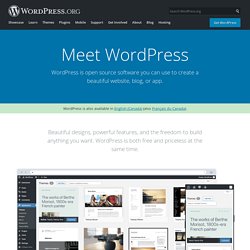 Choice and flexibility are the hallmarks of the Linux ecosystem. In Windows and OS X, if you don't like some aspects of the operating system, there's not much you can do about it. Not so in the Linux world, where thanks to the numerous distributions you are in fact spoilt for choice. Each distro has the Linux kernel at its core, but builds on top of that with their own selection of other components, depending on the target audience for the distro.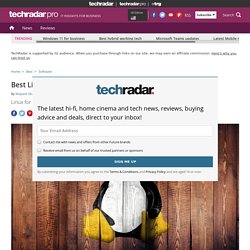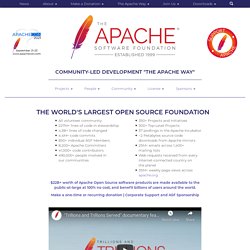 If you would like to keep up with news and announcements from the foundation and all its projects, you can subscribe to the Apache Announcements List or follow the Foundation Blog. Highest performing "NoSQL" distributed Big Data database in use at hundreds of organizations including Adobe, CERN, Comcast, Disney, eBay, GE, GitHub, GoDaddy, HP, Hulu, IBM, Instagram, Intuit, Netflix, Plaxo, Polyvore, Sony, and The Weather Channel Forest Hill, MD –08 April 2014– The Apache Software Foundation (ASF), the all-volunteer developers, stewards,... Open Source collaborative software development platform in use at DARPA, DLR German Aerospace Center, Open Source Projects Europe, and SourceForge, among others, to manage source code repositories, bug reports, discussions, wiki pages, blogs and more
Creative Docs .NET - Get Creative!
Project News October 12 2011 This version is a bug-fix release. March 18 2011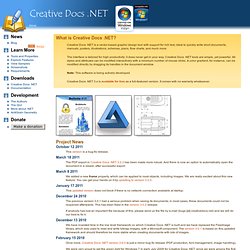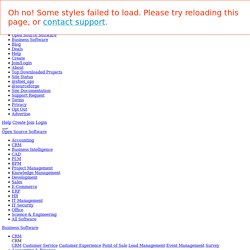 Audacity is available for Windows®, Mac®, GNU/Linux® and other operating systems. Check our feature list, wiki, and forum for more information. October 21, 2013: Audacity 2.0.5 Released Audacity 2.0.5 replaces all previous versions. It fixes crashes or hangs that were reported in Audacity 2.0.4 on some machines, and contains many other bug fixes and stability improvements. (OS X) Crashes when importing audio files are fixed.
LAME is a high quality MPEG Audio Layer III (MP3) encoder licensed under the LGPL. Latest LAME release: v3.99 (October 2011) LAME development started around mid-1998.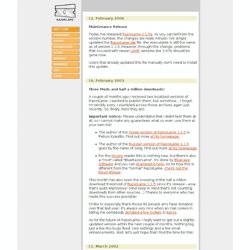 RazorLame | A LAME Front-end - open source encoding MP3 files
RazorLame 1.1.5 available, new site look, new forum Lots of new stuff! Most important: a new stable release of RazorLame is finally available! Get it from the download page! The most obvious news is that the site got a nice new overhaul thanks to the skills of TB2 ! I find it incredible that, somehow, RazorLame is related to the official Lord of the Rings Winamp skin .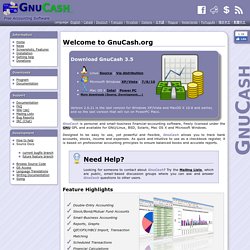 The GnuCash development team proudly announces GnuCash 2.5.10, the eleventh release in the 2.5.x series of the GnuCash Free Accounting Software. It runs on GNU/Linux, *BSD, Solaris and Mac OSX. WARNING: This is an UNSTABLE version of GnuCash.