Creative / Social Media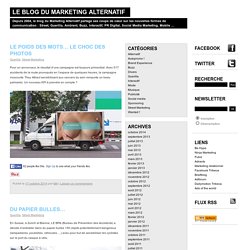 Du papier bulles… En Suisse, à Zurich et Bienne, LE BPA (Bureau de Prévention des Accidents) a décidé d'emballer dans du papier bulles 150 objets potentiellement dangereux (lampadaires, poubelles, véhicules …) avec pour but de sensibiliser les cyclistes sur le port du casque à vélo. Une banderole avec le message : « Un casque vous protège encore mieux » entouré le papier à bulles. via Ray-Ban en mode Instagram La dernière collection de lunettes de soleil Ray-Ban comporte des verres teintés façon Instagram.
What is important to you 2011 After Candy Chang lost someone she loved, she went through a long period of grief and depression. With time she felt gratitude for the time they had together and eventually she found clarity in her life by contemplating death so much. But she struggled to maintain this perspective. It's easy to get caught up in the day-to-day and forget what really matters to you.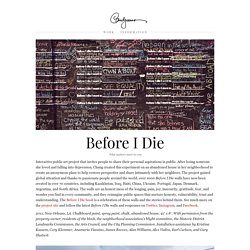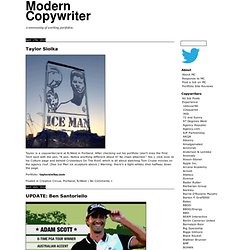 CW Wanted: Bay Area Recruiter (and friend of MC) Francesca Cohn checks in with a mid-level CW position at an awesome Bay Area shop. (Can't name it, but it's awesome.) Winner winner chicken dinner will get to work on a bunch of great accounts, including auto, travel and lifestyle. Ideal candidates have 4-5 years experience and killer, integrated portfolios (TV, print, digital, etc.). Relocation is paid, but Visa's aren't an option.