Creative / Social Media
Brainstorm #9. Ubersuper ~ Stuff I Like. Le blog du Marketing Alternatif. Advertising/design goodness - advertising and design blog. Before I Die & Candy Chang.
What is important to you 2011 After Candy Chang lost someone she loved, she went through a long period of grief and depression.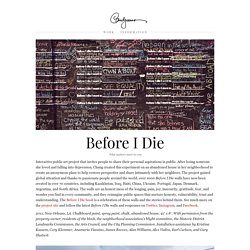 With time she felt gratitude for the time they had together and eventually she found clarity in her life by contemplating death so much. But she struggled to maintain this perspective. It's easy to get caught up in the day-to-day and forget what really matters to you. Creative Criminals - It's all about advertising. Modern Copywriter. Hypeness – Inovação e criatividade para todos. Fubiz™
---