Teaching
Common Core and 21st Century Standards. Infographic: Write It Down | Course Hero - StumbleUpon. Khan Academy - StumbleUpon. Education. Oral English Activities. This site is no longer being actively maintained, but I've received enough grateful emails from teachers over the years to know that it's still being used.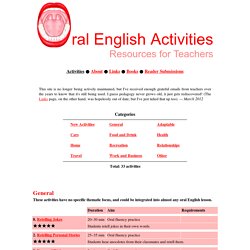 I guess pedagogy never grows old, it just gets rediscovered! (The Links page, on the other hand, was hopelessly out of date, but I've just tidied that up too). — March 2012 KEYWORDS: ESL, EFL, TEFL, TESL, China, communicative oral english activities, communicative verbal english activities, communicative spoken english activities, communicative conversational english activities, oral english classes, verbal english classes, spoken english classes, conversational english classes, english conversation classes, oral english lessons, oral english lesson plans, verbal english lessons, verbal english lesson plans, spoken english lessons, spoken english lesson plans, conversational english lessons, conversational english lesson plans.
How to Keep Kids Engaged in Class. When students let their minds drift off, they're losing valuable learning time.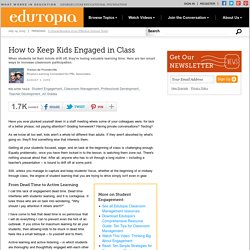 Here are ten smart ways to increase classroom participation. Credit: William Duke. Teaching Strategies. Common Core Related Resources. Math. Social Studies. ESL. Language Arts. General Science. Hands-on Activities for Teaching Biology to High School or Middle School Students. By Drs.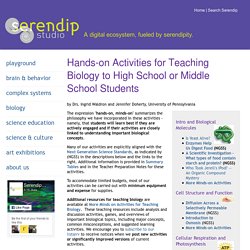 Ingrid Waldron and Jennifer Doherty, University of Pennsylvania The expression "hands-on, minds-on" summarizes the philosophy we have incorporated in these activities -- namely, that students will learn best if they are actively engaged and if their activities are closely linked to understanding important biological concepts. For example, it is helpful to use hands-on models to engage student interest and foster multiple modality learning, but it is crucial to closely link the modeling activity to student understanding of the actual biological processes.
To accommodate limited budgets, most of our activities can be carried out with minimum equipment and expense for supplies.Read More Additional resources for teaching biology are available at. Life Science. SMARTBoard. Music Edu.
---