Gestion projet / To-Do
Work 2-gether – Scrum Task Board Online Team Tools. Work 2-gether Scrum Task Board Online Team Tools Work 2-gether is our new software offering currently under development.
It's a Scrum task board based on Kanban and Scrum principles for simple project execution that leverage the fastest learning curves. Designed for one team projects, Work 2-gether is so easy to use even kids and teenagers will love it. Redbooth | Improve company productivity with Redbooth. Quip. Best Online Project/Task Management Tool/Software - DoBamBam.com. Tine2.0 - Demo Open Source Software. Trello.
Revue de logiciels ou modules
JIRA | The Highlight Reel. Mettez à jour votre workflow de développement grâce à JIRA, Stash et Bamboo.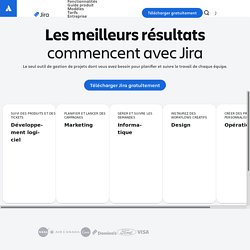 Nos outils s'intègrent maintenant mieux que jamais au sein de votre entreprise et grâce à l'intégration des bonnes pratiques de l'industrie, nous vous guidons à travers chaque étape de votre développement. Fonctionnant en harmonie, de la création d'un ticket, au Merge de votre code. Source Code Integration. Prices. Do you already use Basecamp?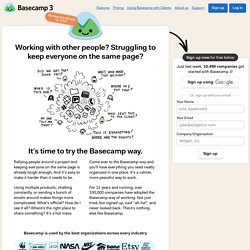 Start a new Basecamp trial with the username and password you already have. One username to rule all your Basecamp accounts. Hold on! Papirus.net | Better than email. Azendoo | Gestion de projet – Outil pratique pour vos projets. Collabtive - Open Source Collaboration. Organi.sr - Team Tasks & To Do Lists. Home. Nobrandapp. Web-based collaboration software. Logiciel de gestion de projet rapide, facile et efficace. Freedcamp - Free Project Management. Logiciel de gestion de projet en ligne | Planzone. GetWebWorkDone.com.
Do - get work done. Plans & Pricing | KiSSFLOW – Simple & Easy Workflow-as-a-Service for Google Apps. Cloud. Online. No contracts required.
No credit card required for trial & free users. Pay-as-you-go. Streak – Utilisez Gmail comme CRM. Streak – Utilisez Gmail comme CRM Voici une extension pour Chrome plutôt sympathique et totalement gratuite durant sa phase beta, qui vous permettra d'utiliser Gmail comme un CRM pour différents types de gestion, par exemple : L'organisation d'événementsLe support par emailLa gestion des ventesLe suivi du recrutementLe suivi de contratsLe développement produitL'appel de fondsLe suivi d'écriture d'articlesL'organisation de mariageou encore le suivi des bugs ou de fonctionnalités dans vos projets Cet outil s'appelle Streak et crée selon vos besoins, des "pipelines" dans Gmail, sortes de tableaux de bord pour tout ce que j'ai listé plus haut.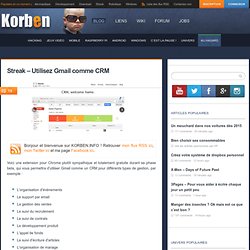 C'est vraiment bien foutu, pas très compliqué, et même si certains trouveront ça basic, ça conviendra à la plupart des gens. Par contre, reste à voir les tarifs, lorsqu'ils sortiront de la phase beta.
Resource Sharing Made Easy. How much it costs. For internal communications of small and micro companies.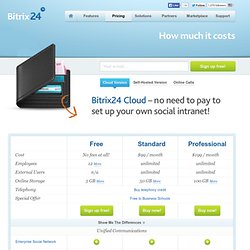 As a platform for small groups of people united by a given topic or interest who wish to have the greatest amount of flexibility, security, and upward mobility. If you manage an online-shop or your company has a sales department, and you need a CRM for processing incoming leads. There are more than 12 people in your company and you need a united platform for file sharing and team work; You need to allow clients, suppliers, or other third parties to participate in projects and tasks; Your non-profit organization has a large number of users. Tracking working hours and time spent by users on individual tasks and projects is mission-critical; Using your own domain name for your social intranet ( Managing meetings, briefings and other events that constantly take place in your company. KanbanFlow - Free, fast & flexible Kanban tool.
Moreganize - stay organised. EasyChair Conference System.
WorkMate | Simple Agile Project Management and Team Collaboration Platform. Gantter - web-based project scheduling made easy. Enterprise Social and Collaboration Platform. La Gestion de Projet en Ligne. Project2Manage - Project Management Software. Organize anything, together. Catch.com. Kanbanpad - Homepage. Open source 3D virtual collaboration toolkit | Open Wonderland.
---