Curateur aggrégateur
Découverte, curation et création de contenu engageant. — Spundge. Connect your Social and Knowledge Web. Liiist - Save anything online into smart lists. Des solutions de curation — éduscol, le site des professionnels de l'éducation. Highlight Web Pages, Share Your Notes | Annotary.
Datamining crowdsourcing
Your personal web - backstitch. Paper.li - Vous êtes le red-en-chef. Flux RSS. Liens en vrac de sebsauvage. Shaare your links... 18038 links Liens en vrac de sebsauvage Home Login RSS Feed ATOM Feed Tag cloud Picture wall Daily Links per page: 20 50 100 ◄Older.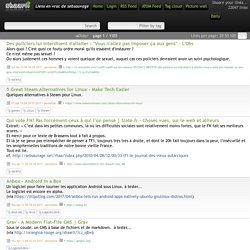 Bottlenose - A Smarter Way To Surf The Stream. XSOAR - The Latest News. Populr. Zite: Personalized Magazine for iPad and iPhone. Pulse. Pulse News - by Alphonso Labs. Flipboard — Now available on iPhone. Flux. Add your favorite content From leading publications, to blogs you follow, you can browse, read, and share favorite content, presented in a swipable magazine format.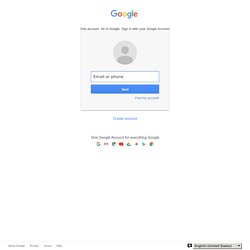 Follow breaking news stories Google search technology identifies and delivers the hottest breaking stories in categories such as world, entertainment, sports, science, and more. Designed for all your devices Whether sitting on your couch, riding a train or plane, your Currents content is ready for highspeed reading on your Android or Apple phone or tablet. Comment faire pour publier votre contenu sur Google Flux. Alors que Google Currents, Google Flux en France, vient d'être publié et disponible dans le monde entier, vous voudrez certainement publier votre propre contenu au sein de nouveau service.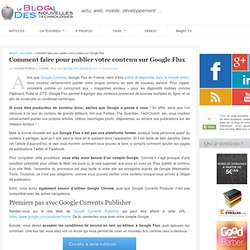 Pour rappel, considéré comme un concurrent aux « magazines sociaux » pour les dispositifs mobiles comme Flipboard, Pulse et ZITE, Google Flux permet d'agréger des contenus provenant de sources multiples en ligne, et ce afin de construire un condensé numérique. Si vous êtes producteur de contenu donc, sachez que Google à pensé à vous !
En effet, alors que l'on retrouve à ce jour du contenu de grands éditeurs, tels que Forbes, The Guardian, TechCrunch, etc, vous voudrez certainement publier vos propres articles, vidéos, reportages photo, diaporamas, ou encore vos publications sur les réseaux sociaux ! Taptu – instant access to all your interests in one beautiful little app. Pinterest / Home. Feedly. feed your mind. MyCube. Linkovery. Popplet | Collect, curate and share your ideas, inspirations, and projects!
Yokto. Rassembler les videos pour la classe. | Les Outils Tice. Yokto est un outil de curation pour la vidéo.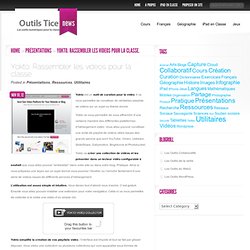 Il va vous permettre de constituer de véritables playlists de vidéos sur un sujet ou thème donné. Yokto va vous permettre de vous affranchir d'une certaine manière des différentes plateformes d'hébergement vidéo. Vous allez pouvoir constituer une sorte de playlist de vidéos utiles issues des grands service que sont YouTube, Vimeo, Ustream, SlideShare, Dailymotion, Brightcove et Photobucket. Yokto va créer une collection de vidéos et les présenter dans un lecteur vidéo configurable à souhait que vous allez pouvoir "embedder" dans votre site ou dans votre blog. Pratique. Create, Curate, Publish.
GetVega - Remember Everything You Love. Nine connections. Glogster : affiche interactive. Trapit. Save, Organize, Share. Content Curation Primer | Digital Curation for Teachers. Home. MentorMob - Learn What You Want, Teach What You Love.
---