Tech
Posted in Tech blog on January 12th, 2011 by Pingdom What happened with the Internet in 2010? How many websites were added?
Les chiffres-clés d'Internet fin 2010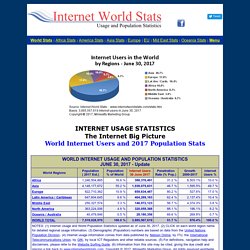 NOTES: (1) Internet Usage and World Population Statistics are for June 30, 2012. (2) CLICK on each world region name for detailed regional usage information. (3) Demographic (Population) numbers are based on data from the US Census Bureau and local census agencies. (4) Internet usage information comes from data published by Nielsen Online, by the International Telecommunications Union, by GfK, local ICT Regulators and other reliable sources. (5) For definitions, disclaimers, navigation help and methodology, please refer to the Site Surfing Guide. (6) Information in this site may be cited, giving the due credit to www.internetworldstats.com. Copyright © 2001 - 2013, Miniwatts Marketing Group. All rights reserved worldwide.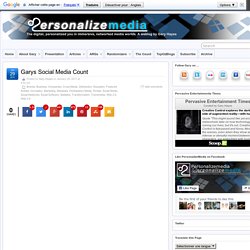 Click for App Store Page Original Counter and Post from 24 Sep 2009! June 2013 'Social' Update (mobile, games & heritage to come)
Réchauffement climatique
Un Guest Post signé Jean-Michel Bélouve, qui remet à leur place les piteuses outrances de la médiasphère réchauffiste après la parution du rapport de l'Académie des Sciences sur le climat Une dépêche, tombée le 28 octobre à 11 h 30, nous informe de la publication du rapport de l'Académie des Sciences relatif au changement climatique. La communication, signée de Claire Snegaroff, qui publie très régulièrement des papiers à sensation sur le réchauffement global, est titré : « Climat : l'Académie des Sciences réfute les thèses de Claude Allègre« . Une interprétation médiatique fallacieuse Je rappelle que ce rapport résulte d'une demande, faite à l'Académie par la Ministre de l'Enseignement Supérieur et de la Recherche Valérie Pécresse, saisie d'une plainte de 600 professionnels de la recherche climatique contre les écrits de Claude Allègre et de Vincent Courtillot. Dans les minutes qui suivaient, le texte de l'AFP a été repris et commenté de façon lapidaire par un grand nombre de médias.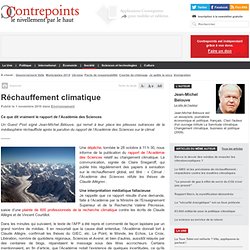 Culture Pub : Le site de toutes les publicités du monde#chapitre_4#chapitre_4#chapitre_4
s 2010 Hype Cycle Special Report Evaluates Maturity of 1,800 Technologies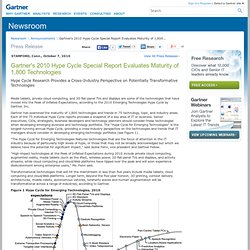 STAMFORD, Conn., October 7, 2010 View All Press Releases Hype Cycle Research Provides a Cross-Industry Perspective on Potentially Transformative Technologies Media tablets, private cloud computing, and 3D flat-panel TVs and displays are some of the technologies that have moved into the Peak of Inflated Expectations, according to the 2010 Emerging Technologies Hype Cycle by Gartner, Inc. Gartner has examined the maturity of 1,800 technologies and trends in 75 technology, topic, and industry areas. Each of the 75 individual Hype Cycle reports provides a snapshot of a key area of IT or business.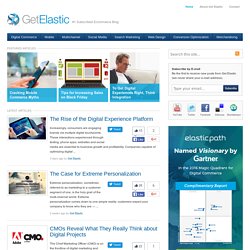 Gain Competitive Advantage with Attribution: Predictions from Adobe Summit A key takeaway from this year's Adobe Summit is that if your business can capitalize on things that are out in the marketplace right now – sensors, mobile, social, wearables – you will be able to establish an immense competitive advantage ... Beyond Push Notifications: What Can Beacons Do For Retail? The obvious application of beacon technology is to push content – be it welcome greetings, discounts and special offers, product information, branded content or other alerts. What else can beacons offer in-store? Based on the research in Forrester Research, ...
A couple of years ago I made the decision to switch from full-time employment to working freelance. I'd spent a lot of time hiring freelancers to help deliver projects whilst at agencies (via recruiters) and it seemed like they had all the fun bits of being a designer but none of the crap, so I made the jump and have been here ever since. Working with recruiters as the client was never easy, I always seemed to spend a lot of time and effort filtering out candidates with the wrong skills or being told candidates had 'mobile experience' when the only thing they had done was a few iPhone mockups for a pitch. Recruiters are suppose to reduce pain, not increase it, I eventually saw it as a necessary evil.
Mobile Inc - Mobile + Advertising + Social + Creative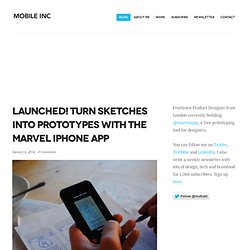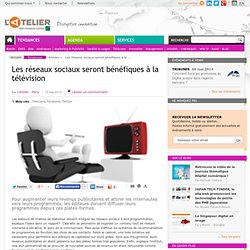 Les réseaux sociaux seront bénéfiques à la télévision
Pour augmenter leurs revenus publicitaires et attirer les internautes vers leurs programmes, les éditeurs doivent diffuser leurs programmes depuis ces plates-formes. Les éditeurs de chaînes de télévision doivent intégrer les réseaux sociaux à leur programmation, explique l'Idate dans un rapport*. Cela afin de permettre de regarder un contenu tout en restant connecté à ses amis, et donc en le commentant. Mais aussi d'affiner les systèmes de recommandation de programmes en fonction des choix de ses contacts.
Korben