Cabins
PLAUN | PODhouse. The dual meaning of the largest PODhouse is also reflected in its name: PLAUN (meaning: peaceful and space) is the largest of the series but does not compromise in the least its unique, exclusive charm.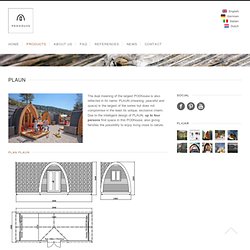 Due to the intelligent design of PLAUN, up to four persons find space in this PODhouse, also giving families the possibility to enjoy living close to nature. 100% FSC certified wood (outside: larch, inside: pine)Double glass windows and doorIntegrated air-flow-obligation in all windows5-point safety doorVery high insulation in roof (=wall) and floorElectric wiringIntegrated forklift iron beams for easy transport, load and unloadImpregnated construction.
Granada Cement and Concrete Tile - Concrete Floor Tile - Custom Tiles. Shipping Container Homes. Storybook Homes. A Low Impact Woodland Home. Pacific Domes - Geodesic Domes. Tiny House Blog - Small House Living. Tiny Free House. O2 Treehouse. GardenPool.org | How we turned an old backyard swimming pool into a self-sufficient garden in a desert city. Family Grows Garden in Backyard Swimming Pool. When Dennis McClung takes a dip in his backyard swimming pool, it isn't to practice his backstroke or cool off from the hot Arizona sun.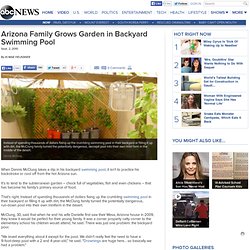 It's to tend to the subterranean garden – chock full of vegetables, fish and even chickens – that has become his family's primary source of food. That's right. Instead of spending thousands of dollars fixing up the crumbling swimming pool in their backyard or filling it up with dirt, the McClung family turned the potentially dangerous, run-down pool into their own minifarm in the desert. McClung, 30, said that when he and his wife Danielle first saw their Mesa, Arizona house in 2009, they knew it would be perfect for their young family. Garden Pool Feeds Family of Four.
Cob Home Photo Gallery. Pat's First Cob (1998) This was Patrick's first cob project on his own after taking a one week workshop with Cob Cottage Company (CCC) in 1997.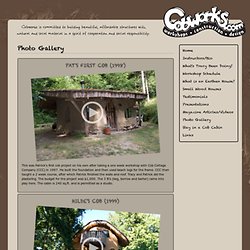 He built the foundation and then used beach logs for the frame. CCC then taught a 2 week course, after which Patrick finished the walls and roof. Tracy and Patrick did the plastering. The budget for the project was $1,000.
---