SocialMedia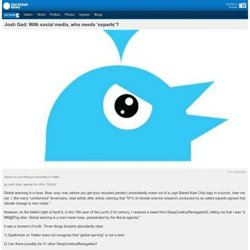 USA TODAY
Jerry Mosemak There's no such thing as censorship on Twitter. by Josh Gad, special for USA TODAY Global warming is a hoax. Now, now, now, before you get your recycled panties (undoubtedly made out of a Lays Baked Kale Chip bag) in a bunch, hear me out.
Twitter Statistics: Retweets Ain't What They Used To Be?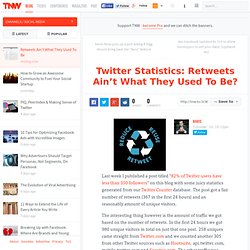 Last week I published a post titled "82% of Twitter users have less than 350 followers" on this blog with some juicy statistics generated from our Twitter Counter database. The post got a fair number of retweets (367 in the first 24 hours) and an reasonably amount of unique visitors. The interesting thing however is the amount of traffic we got based on the number of retweets.
Hire the Right Type of VP Marketing — Or You'll Just End Up With a Bunch of Blue Pens with Your Logo On Them | saastr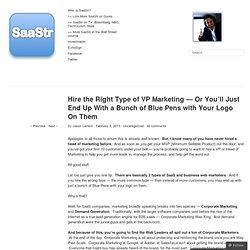 Apologies to all those to whom this is already well known. But, I know many of you have never hired a head of marketing before. And as soon as you get your MSP (Minimum Sellable Product) out the door, and you've got your first 10 customers under your belt — you're probably going to want to hire a VP or Head of Marketing to help you get more leads in, manage the process, and help get the word out. All good stuff.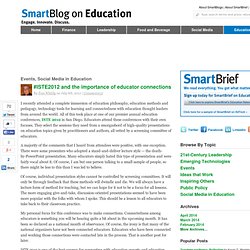 #ISTE12 and the importance of educator connections | SmartBlogs SmartBlogs
I recently attended a complete immersion of education philosophy, education methods and pedagogy, technology tools for learning and connectedness with education thought leaders from around the world. All of this took place at one of our premier annual education conferences, ISTE 2012 in San Diego. Educators attend these conferences with their own focuses.
scistuchat
While the past few years has brought news stories of people from all professions getting into trouble at work because of something they posted on Facebook, it seems like there have been more stories about teachers than other professionals. Maybe teachers' Facebook foolishness gets more news coverage because of the special level of trust that parents bestow on teachers. Maybe it is because teachers are unfairly targeted by hypercritical parents and the many groups that dislike teachers' unions. Maybe it is simply because the press loves to tell a juicy story of a teacher gone bad. Whatever the reason, it seems like every week there is a new story about a teacher in trouble because of Facebook. Social media like Facebook creates special problems for professionals because when an employee posts their instant thoughts, opinions or pictures to a group of personal "friends," they feel like they are doing it as a person, not a professional.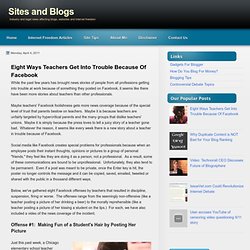 Sites and Blogs: Eight Ways Teachers Get Into Trouble Because Of Facebook
#Twitteracy
"So here are some questions that keep me up at night: How are we to make our students literate if we ourselves are not? If we cling to age old definitions and ignore the wisdom of one of the oldest professional education organizations we have in this country, how do we provide my kids with the experiences they need to fully understand what it means to be a self-directed, participatory learner in this century? How do we make sure that every child and every teacher has access to these tools and connections? And what do we do when the reform conversations are being led by a majority of folks who have no context for the changes that are happening every day in these connected spaces, folks that by NCTE's definition, may have some literacy issues themselves?"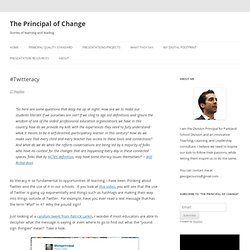 Policy Priorities:Can Social Media and School Policies be "Friends"?:Executive Summary on Social Media in Schools
Winter 2011 | Volume 17 | Number 4 Can Social Media and School Policies be "Friends"? The social, and increasingly mobile, nature of technology is making it harder to separate online and offline worlds. While students today have never known a world without the Internet, many of their teachers and parents experienced school in a time before clicks and shares.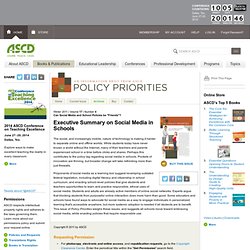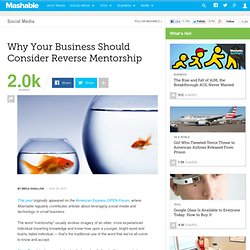 This post originally appeared on the American Express OPEN Forum, where Mashable regularly contributes articles about leveraging social media and technology in small business. The word "mentorship" usually evokes imagery of an older, more experienced individual imparting knowledge and know-how upon a younger, bright-eyed and bushy-tailed individual — that's the traditional use of the word that we've all come to know and accept.
Why Your Business Should Consider Reverse Mentorship
Social Media in the Classroom
Social Media Classroom: New Web 2.0 Platform for Education
The Social Media Classroom (SMC) is a new project started by Howard Rheingold which offers an open-source Drupal-based web service to teachers and students for the purpose of introducing social media into the classroom. The service includes tools like forums, blogs, wikis, chat, social bookmarking, RSS, microblogging, widgets, video conferencing, and more. The SMC is more than just a collection of new media tools repurposed for educational use, though.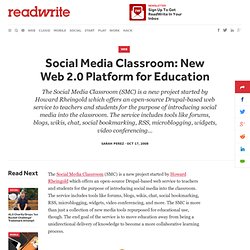 Social media classroom. downloadable instructional tools by jdferries Mar 1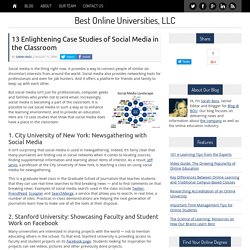 13 Enlightening Case Studies of Social Media in the Classroom
Social media is the thing right now.
practical examples of using social media in the classroom. share, colloaborate, display by jdferries Mar 1
Twitter, Blogs, and Wikis: Social Media in the Classroom | HASTA
Note: This blog post was originally posted at my personal blog, The Chutry Experiment, and I am grateful to HASTAC for inviting me to publish it here as well.
Social Media Cartoons