Photography
- StumbleUpon. - StumbleUpon. 0411wallpaper-week-1-6_1600.jpg from nationalgeographic.com - StumbleUpon. PARIS - panorama | © gillesvidal - photographe - StumbleUpon. Random Stuff I Don't Need But Kinda Want. Do you notice | humor images. Mr.Bromo by Vichienrat Jangsawang. Snow.jpg from gawkerassets.com - StumbleUpon. 54817_0_1008x803.jpg from nationalgeographic.com - StumbleUpon. 20 Captivating Photos Shot At Exactly The Right&8230; | Bit Rebels - StumbleUpon.
There are some things in life that make me feel dated (notice I didn't use the word "old" LOL).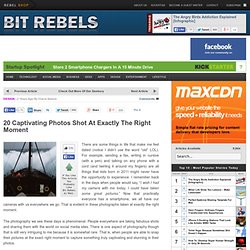 For example, sending a fax, writing in cursive (with a pen) and talking on any phone with a cord (and twirling it around my fingers) are all things that kids born in 2011 might never have the opportunity to experience. I remember back in the days when people would say, "I wish I had my camera with me today, I could have taken some great pictures." Now that practically everyone has a smartphone, we all have our cameras with us everywhere we go. That is evident in these photographs taken at exactly the right moment. The photography we see these days is phenomenal. Aurora_vetter_900.jpg from nasa.gov - StumbleUpon. 15 Anthropomorphic Objects - web pulp 2.0&|&web pulp 2.0. Have you ever seen a common everyday object and could swear that its smiling at you?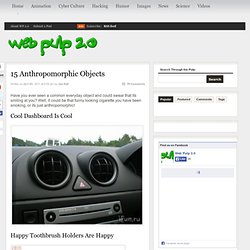 Well, it could be that funny looking cigarette you have been smoking, or its just anthropomorphic! Cool Dashboard Is Cool Happy Toothbrush Holders Are Happy. Earth View. Dear Photograph. Would-you-ride-this-gondola-lift from uberhumor.com.
---