Art
Get flash to fully experience Pearltrees
Last week I saw this pin on Pinterest and I instantly loved the idea. Starting May 1st, I'll be taking the challenge and posting a drawing per day here on my blog each afternoon. If you'd like to do it on your own, please please do! If you'd like to share your drawing on my blog, just email it to me by 12pm EST the day of. It doesn't matter if you start now and submit them later or sketch them throughout May. It's just a great way to encourage myself to sketch daily and maybe you need that encouragement too!
Apparently the U.S. is lagging way behind Europe when it comes to witty shopping bag design. These 13 were spotted on an interesting site called BoredPanda.com , which calls itself "a highly visual oddities magazine dedicated to showcasing the world's most creative artworks, offbeat products and everything that's really weird or wonderful." A perfect fit for the _floss, I'd say!
The world is full of beautiful strange and fantastic buildings that are the examples of amazing architecture. Architecture Photography brings this beauty to the world, and for this reason, architectural photography is as thrilling as it is heartwarming. In this roundup, we have compiled an amazing collection of some bizarre yet interesting buildings that are reflected through architectural photography. Enjoy!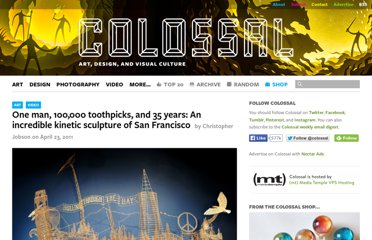 (click images for detail) Thirty five years ago I had yet to be born, but artist Scott Weaver had already begun work on this insanely complex kinetic sculpture, Rolling through the Bay , that he continues to modify and expand even today. The elaborate sculpture is comprised of multiple "tours" that move pingpong balls through neighborhoods, historical locations, and iconic symbols of San Francisco, all recreated with a little glue, some toothpicks, and an incredible amount of ingenuity. He admits in the video that there are several toothpick sculptures even larger than his, but none has the unique kinetic components he's constructed.