Intelligence Eco
Le Groupe de Bilderberg. ORGANISATIONS DES MAITRES DU MONDELe Groupe de Bilderberg La première réunion du Groupe de Bilderberg, à Oosterbeck en 1954 Contrôles policiers aux abords du château Un agent de "sécurité rapprochée" et la pancarte d'interdiction d'accès.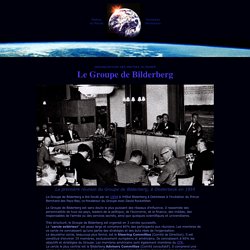 The European Council on Foreign Relations | ECFR's Board and Cou. The European Council on Foreign Relations (ECFR) is a pan-European think-tank which conducts research and promotes informed debate across Europe on the development of a coherent and effective European values-based foreign policy.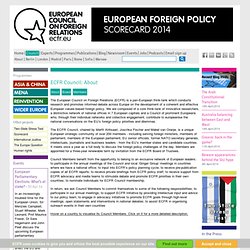 We are composed of a core think-tank of innovative researchers, a distinctive network of national offices in 7 European capitals and a Council of prominent Europeans who, through their individual networks and collective engagement, contribute to europeanise the national conversations on the EU's foreign policy priorities and dilemmas. The ECFR Council, chaired by Martti Ahtisaari, Joschka Fischer and Mabel van Oranje, is a unique European strategic community of over 200 members - including serving foreign ministers, members of parliament, members of the European parliament, EU senior officials, former NATO secretary generals, intellectuals, journalists and business leaders - from the EU's member states and candidate countries.
UE- Registre des représentants d'intérêts. OpenSecrets.org: Money in Politics -- See Who's Giving & Who's G. Cryptome. Accueil. EPEE. List of think tanks. This article is a list of think tanks sorted by country.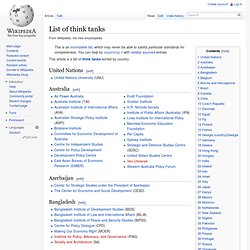 United Nations[edit] United Nations University (UNU) Australia[edit] Azerbaijan[edit] French-American Foundation France. Aspirateur de site. Muckety-Exploring the paths of power and influence. Documents. Cette base documentaire réunit l'ensemble des documents disponibles sur ce blog.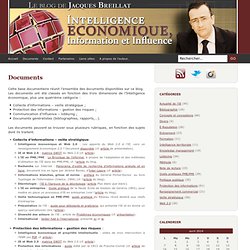 Les documents ont été classés en fonction des trois dimensions de l'Intelligence économique, plus une quatrième catégorie : Collecte d'informations – veille stratégique ;Protection des informations – gestion des risques ;Communication d'influence – lobbying ;Documents généralistes (bibliographies, rapports,…). Les documents peuvent se trouver sous plusieurs rubriques, en fonction des sujets dont ils traitent. Intelligence Economique, veille, recherche d informations - Accu. - Renseignement, Défense, Technologie, Terrorism.
---