Meditation
I'm a quote-a-holic. I believe in the power of words to reshape thoughts, thereby changing our feelings and perceptions. Here are some of my favorites. What the caterpillar calls the end of the world the master calls the butterfly.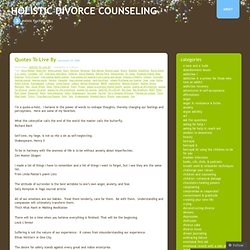 Jack Kornfield | Holistic Divorce Counseling
Dharma Eye
Interactive Tour of the Buddhist Wheel of Life (flash movie)
Just Dharma Quotes
COMING HOME - the cremation of Khandro Lhamo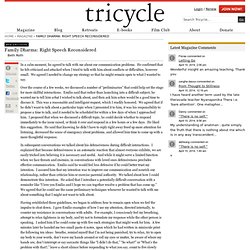 In a calm moment, he agreed to talk with me about our communication problems. He confirmed that he felt criticized and attacked when I tried to talk with him about conflicts or difficulties, however small. We agreed I needed to change my strategy so that he might remain open to what I wanted to say. Over the course of a few weeks, we discussed a number of "preliminaries" that could help set the stage for more skillful interactions. Emilio said that rather than launching into a difficult subject, he wanted me to tell him what I wished to talk about, and then ask him when would be a good time to discuss it. This was a reasonable and intelligent request, which I readily honored.
Family Dharma: Right Speech Reconsidered
Over the last ten years of teaching at meditation centers, I have seen an incredible spectrum of people coming in the doors, seeking something. They might say they want to feel more grounded, less stressed out at work, or that they are dealing with some tough emotional issues. "Would you say," I inquire, "that you're seeking a sense of contentment?"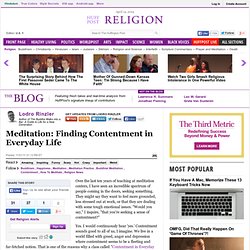 Lodro Rinzler: Meditation: Finding Contentment in Everyday Life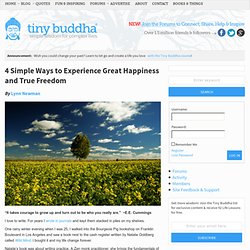 "It takes courage to grow up and turn out to be who you really are." ~E.E. Cummings I love to write. For years I wrote in journals and kept them stacked in piles on my shelves. One rainy winter evening when I was 25, I walked into the Bourgeois Pig bookshop on Franklin Boulevard in Los Angeles and saw a book next to the cash register written by Natalie Goldberg called Wild Mind.
4 Simple Ways to Experience Great Happiness and True Freedom
Tulku Urgyen Rinpoche Interview for Vajradhatu Sun, 1985 The following interview with Tulku Urgyen Rinpoche was recorded on the 16th day of December, 1985, at Nagi Gompa, outside of Kathmandu.
Tulku Urgyen Rinpoche, Interview for Vajradhatu Sun, 1985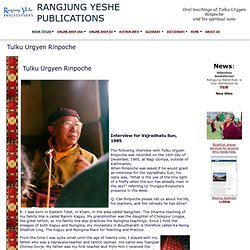 I am periodically suffering keenly these days along with a dear friend who's in the worst of the chronic illnesses, profound depression. I can be too empathic, having experienced that myself. It was long ago, but it was a long trek out of that landscape. And I hate not being able to help someone else much. You aren't, you know.
dalai grandma
Holy Isle Project ::
The founder and vision holder of the Holy Isle Project is Lama Yeshe Rinpoche, a Tibetan Buddhist meditation master in the Kagyu tradition. Lama Yeshe is also Abbot of Samye Ling Monastery in Dumfriesshire, where he lives most of the year. At the north of the island the Centre for World Peace and Health hosts a retreat and course programme. Between April and October we also welcome guests to stay at the Centre for personal retreats or holiday breaks. A closed Buddhist retreat takes place at the south of the island.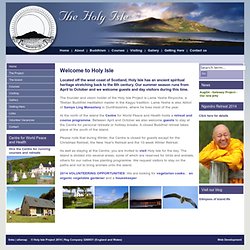 Welcome to the Tenzin Gyatso Institue
Tonglen - Taking and Sending Meditation, Thrangu Rinpoche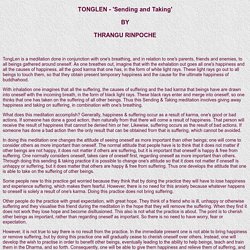 TongLen is a meditation done in conjunction with one's breathing, and in relation to one's parents, friends and enemies, to all beings gathered around oneself. As one breathes out, imagine that with the exhalation out goes all one's happiness and all the causes of happiness, all the good karma that one has, in the form of white light rays. These light rays go out to all beings to touch them, so that they obtain present temporary happiness and the cause for the ultimate happiness of buddhahood. With inhalation one imagines that all the suffering, the causes of suffering and the bad karma that beings have are drawn into oneself with the incoming breath, in the form of black light rays.
Kagyu Monlam News
Gyalwang Karmapa Returns to Gyuto Monastery 6 April 2014 – Gyuto MonasteryReturning today to his temporary residence at Gyuto Monastery, close to Dharamsala, the Gyalwang Karmapa successfully ended a period travel in North India where gave many teachings and led various dharma activities, including at some of the holiest Buddhist sites in the world. Beginning in November 2013 he taught students in Delhi at the request of the Foundation... The Gyalwang Karmapa Imparts the Essence of Milarepa's Life Story April 4, 2014 - New Delhi, India The International Buddhist Confederation invited the Gyalwang Karmapa to give a day of teachings on Milarepa, the great Tibetan yogi, in the lovely and intimate theater of the Sri Sathya Sai International Center. On the stage, a painting of Milarepa hung behind the Karmapa's chair, flanked by bouquets of lush white flowers. After a welcome by Lochen Tulku, the...
Kagyu Office: the Website of His Holiness Gyalwang Karmapa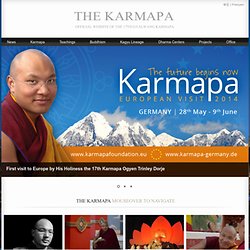 Dharma Seed - Dharma Talks
The Berzin Archives – The Buddhist Archives of Dr. Alexander Berzin – Home Page
Recalling a Buddha
The Sixteenth Karmapa was the leader of one of Tibetan Buddhism's four major schools of spiritual teachings: the Kagyu lineage. How he lived and how he died gives us the example of an awakened being, a person with a noble heart. What They're Saying "I just got the new version of Recalling a Buddha which is a magnificent presentation of the life of His Holiness the 16th Karmapa. This is a wonderful production filled with amazing photographs and interviews of eminent meditation masters from across the Tibetan pantheon. It is a beautifully presented story of an incredible and inspiring person.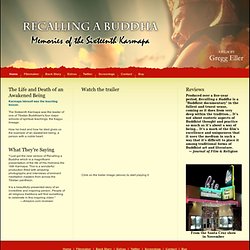 This website emerged from the wish of the Tibetan Buddhist teacher Chökyi Nyima Rinpoche, to make the Buddha's teachings available to everyone. The teachings found here offer advice on how to live a life of happiness in accordance with the Buddha's message of compassionate wisdom. In particular, you can access selected teachings by Chökyi Nyima Rinpoche, such as his famous "Saturday Talks", as well as Buddhist Advice and teachings given by other qualified Buddhist teachers on the classics of Buddhism. Please or for free.
dharmasun
Welcome to the official website of the Office of His Holiness the 14th Dalai Lama. His Holiness is the spiritual leader of the Tibetan people. He frequently states that his life is guided by three major commitments: the promotion of basic human values or secular ethics in the interest of human happiness, the fostering of inter-religious harmony and the preservation of Tibet's Buddhist culture, a culture of peace and non-violence. Explore here how His Holiness fulfils these commitments through his various activities his public talks, widespread international visits and publications.
His Holiness the 14th Dalai Lama
Rigpa Wiki
mist-real
home page buddhism Mip'am Rinpoche's 'Liquid Gold'
'New Chinese law aimed at wiping out Tibetan identity'
Bījākṣara Mantra - Seed Syllables
Buddhadharma - Home
Mirror of Wisdom Video-Vajrayana Buddhist Video Archive
Rev. Danny Fisher
Tergar - Yongey Mingyur Rinpoche's International Meditation Community
The Pundarika Foundation
The Treasury of Lives: Biographies of Himalayan Religious Masters
BuddhaNet - Worldwide Buddhist Information and Education Network
Meditation Timers: Insight Meditation Center
Lojong and Tonglen Community Site