Storytelling
In business, storytelling is all the rage. Without a compelling story, we are told, our product, idea, or personal brand, is dead on arrival. In his book, Tell to Win, Peter Guber joins writers like Annette Simmons and Stephen Denning in evangelizing for the power of story in human affairs generally, and business in particular.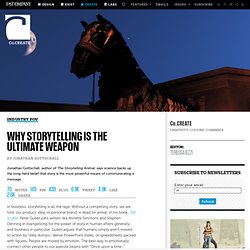 Attention to detail — Goliath Sportswear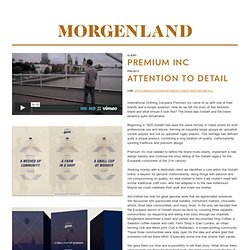 Goliath Sportswear - Morgenland
Premium Inc
Introducing Chrome for Android Beta
Ericsson Creates 36 UIs In 30 Locations, To Teach About The Internet's Infrastructure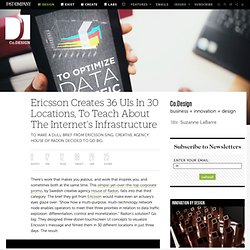 There's work that makes you jealous, and work that inspires you, and sometimes both at the same time.
The Rise Of The Explainer Video
Editor's note: Rico Andrade a former executive producer at Transvideo Studios and Picturelab. Follow him on Twitter @andrade_rico. Two years ago, Jason Kincaid wrote a short but influential post titled "The Underutilized Power Of The Video Demo To Explain What The Hell You Actually Do."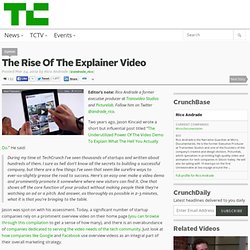 When I'm not writing for or elsewhere, I make films that help organizations and companies make sense of interesting ideas . One of my frequent partners is National Public Radio , and a while ago they asked me to help them get the word out about their Android app.
3 Tips For Selling A Geeky Idea To Everyone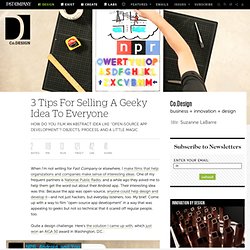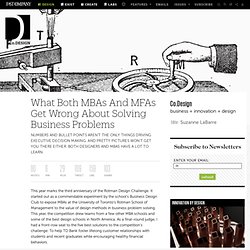 Need To Solve A Tough Business Problem? Look Beyond The MBA's
This year marks the third anniversary of the Rotman Design Challenge. It started out as a commendable experiment by the school's Business Design Club to expose MBAs at the University of Toronto's Rotman School of Management to the value of design methods in business problem solving.