Science
The Online Books Page. Listing over 1 million free books on the Web - Updated Friday, April 25, 2014 Search our Listings -- New Listings -- Authors -- Titles -- Subjects -- Serials A public domain metadata gift for our 20th birthday -- Blog (Everybody's Libraries) -- Latest Book Listings.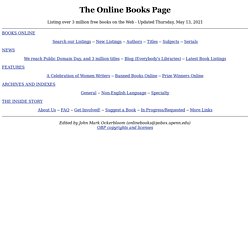 Jornal Ciência. Not Exactly Rocket Science. For new readers, this collection of "missing links" rounds up fascinating stuff I find around the internet, and appears every Saturday.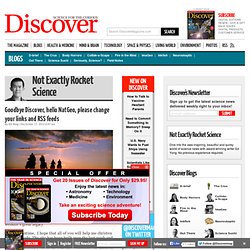 It's separated into Top Picks (the best stuff), Science/News/Writing (science writing), Heh/Wow/Huh (silliness, satire, photos, videos), and Journalism/Internet/Society (a miscellany of my other interests). If links are broken, let me know in the comments. Top picks "Restless genes" by David Dobbs, about the genetics and other factors behind the human urge to explore, is one of the best science stories of the year, let alone the week. ScienceBlogs.com.br. Science and Technology News, Science Articles | Discover Magazin. Science 2.0. Researchers from the UC San Diego School of Medicine and the Dana-Farber Cancer Institute believe they have uncovered a new aspect of autism - that proteins involved in autism interact with many more partners than previously known.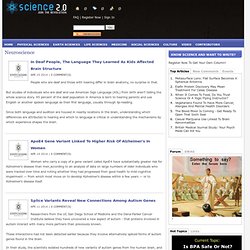 These interactions had not been detected earlier because they involve alternatively spliced forms of autism genes found in the brain. In their study, the scientists isolated hundreds of new variants of autism genes from the human brain, and then screened their protein products against thousands of other proteins to identify interacting partners.
---