Books
Brave New World by Aldous Huxley. Chapter One A SQUAT grey building of only thirty-four stories.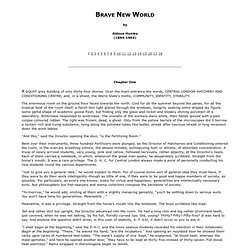 Over the main entrance the words, CENTRAL LONDON HATCHERY AND CONDITIONING CENTRE, and, in a shield, the World State's motto, COMMUNITY, IDENTITY, STABILITY. Free eBooks at Planet eBook - Classic Novels and Literature You' The Modern Library | 100 Best | Novels. Banned Books Online. Presents Welcome to this special exhibit of books that have been the objects of censorship or censorship attempts.
The books featured here, ranging from Ulysses to Little Red Riding Hood, have been selected from the indexes of The Online Books Page. (See that page for more than a million more online books!) This page is a work in progress, and more works may be added to this page over time. Please inform onlinebooks@pobox.upenn.edu of any new material that can be included here. Bookyards.com » Library to the world.
---