Desserts
17 Milkshakes That Bring All The Boys To The Yard. Two Tiny Kitchens. Salty and sweet.
Crunchy and melt-in-your-mouth. Peanut butter and chocolate. Snickers Caramel Cheesecake Cookies. Happy Thursday!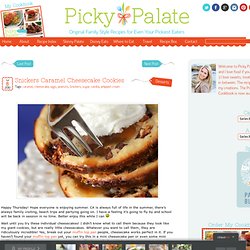 Hope everyone is enjoying summer. CA is always full of life in the summer, there's always family visiting, beach trips and partying going on. I have a feeling it's going to fly by and school will be back in session in no time. Better enjoy this while I can Wait until you try these individual cheesecakes! Carrot cake with maple-cream cheese frosting. After months and months and months of the kind studying, stressing and panicked all-nighters I only vaguely remember from college in part because I am very, very old and in part because, no, I did not graduate with a 4.0, my friend Alice finally took her very big exam this past weekend.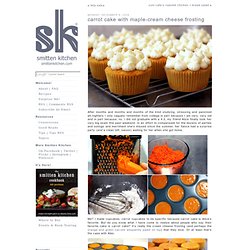 In an effort to compensate for the dozens of parties and outings and merriment she's missed since the summer, her fiance had a surprise party (and a clean loft, swoon) waiting for her when she got home. Me? I made cupcakes, carrot cupcakes to be specific because carrot cake is Alice's favorite. Pumpkin Cupcakes with Pumpkin Spiced Cream Cheese Frosting. Skinny pumpkin cupcakes, perfect for Halloween parties, Thanksgiving or anytime you want a low fat pumpkin treat.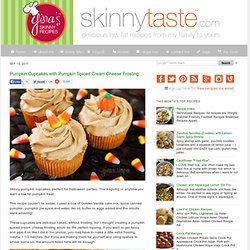 This recipe couldn't be easier, I used a box of Golden Vanilla cake mix, some canned pumpkin, pumpkin pie spice and water. No oil, butter or eggs added and the results were amazing! These cupcakes are delicious naked, without frosting, but I thought creating a pumpkin spiced cream cheese frosting would be the perfect topping. 20 brilliant things to make in a jar. Via: mycakies.blogspot.com Start saving your old jam jars!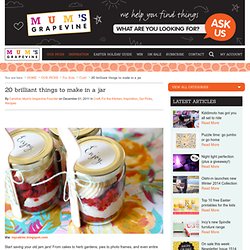 From cakes to herb gardens, pies to photo frames, and even entire meals … here are 20 fantastic things you never knew you could make with a jar. (Above: red velvet cupcakes in a jar. Raspberry Lemon Cupcakes. - StumbleUpon. No Bake Nutella Cheesecakes. If you happened to catch my post on How To Skin Hazelnuts, you may remember me saying that I have reawakened my obsession with Nutella.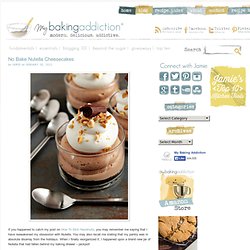 You may also recall me stating that my pantry was in absolute disarray from the holidays. When I finally reorganized it, I happened upon a brand new jar of Nutella that had fallen behind my baking drawer – jackpot! This little find rekindled my love affair with all things Nutella in a big way. Martha Stewarts Cookies and Cream Cheesecakes Recipe | La Mia Vita Dolce - StumbleUpon. Posted by Grace Massa Langlois on Wednesday, 21st July 2010 I have yet to meet a person who doesn't like Oreo cookies or Cream Cheesecake Cupcakes.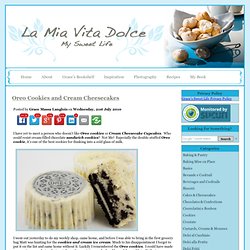 Who could resist cream-filled chocolate sandwich cookies? Not Me! Especially the double-stuffed Oreo cookie, it's one of the best cookies for dunking into a cold glass of milk. Better-Than-Crack-Brownies | How Sweet It Is - StumbleUpon. I'm sorry for doing this to you.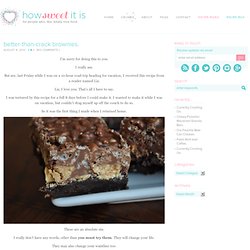 I really am. But see, last Friday while I was on a 10-hour road trip heading for vacation, I received this recipe from a reader named Liz. Liz, I love you. That's all I have to say. EDDIE ROSS - Pink Ombre Cake - StumbleUpon. Here's a cake sure to sweeten up the Valentines in your life.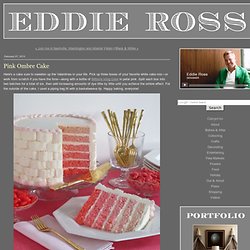 Pick up three boxes of your favorite white cake mix—or work from scratch if you have the time—along with a bottle of Wilton's Icing Color in petal pink. Split each box into two batches for a total of six, then add increasing amounts of dye little by little until you achieve the ombre effect. For the outside of the cake, I used a piping bag fit with a basketweave tip. Valentine Cookies + PrintableThirty Handmade Days - StumbleUpon. Design Crush & Popsicles! - StumbleUpon. Jun29 Not to sound full of myself, but I'm pretty sure this is the be all, end all of popsicle roundups.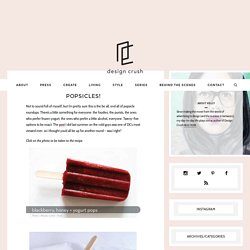 There's a little something for everyone: the foodies, the purists, the ones who prefer frozen yogurt, the ones who prefer a little alcohol, everyone.
---