Stumble
Get flash to fully experience Pearltrees
Note: This is a post from Adam Baker, founder of Man Vs. Debt. Last week, while I was talking about our new You Vs. Debt class , we touched on the "status quo" of our Upside-Down Nation . We talked about our obsession with the debt-fueled life path and how it's keeping millions trapped.
Why have you been so successful in reaching some of your goals, but not others? If you aren't sure, you are far from alone in your confusion. It turns out that even brilliant, highly accomplished people are pretty lousy when it comes to understanding why they succeed or fail. The intuitive answer — that you are born predisposed to certain talents and lacking in others — is really just one small piece of the puzzle.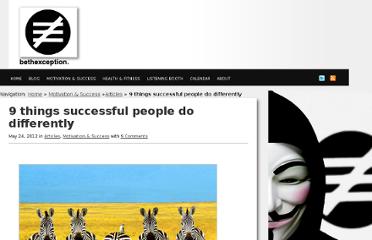 Perhaps as long as 5,000 years ago, a group of sailors found skulls belonging to a race of hideous giants whom the ancient Greeks named cyclops. Dwelling in their mythical land, entrusting the fate of their crops to their evil gods and devouring any humans they could find, these creatures terrified generations of Europeans. Today, relatives of these monsters can still be found — roaming the African savannas or the Indian jungles, or even eating peanuts from the hands of small children in city zoos.
Thiago Costa has created a physics based demonstrations with Softimage's ICE platform which can only be described as insane. This is probably not real-time, but we are wondering what it would be like to have this level of physics and particle effects in games. Softimage , is a high-end 3D computer graphics application owned by Autodesk for producing 3D computer graphics, 3D modeling, and computer animation. The software is predominantly used in the film, video game and advertising industries for creating computer generated characters, objects, and environments.
How many times have you gone out for some fancy food, and ended up spending the evening yelling into the ear of your dinner companion? An accomplished sound engineer has figured out a way to solve that problem, using technology similar to that of noise-canceling headphones. Using 123 cleverly hidden speakers, an array of highly sensitive microphones and noise-canceling technology, sound engineer (and now restaurant owner) John Paluska has teamed up with Meyer Sound to create a way to make the noise of conversation cancel itself out, letting him control the ambient sound levels in his restaurant using an iPad app. Paluska's noise-canceling system's beta test site is Comal , his restaurant in Berkeley, Calif.