Food
Another post about the no-knead bread. First a question – it seems the collective opinion is that the 6 to 8 quart covered pot called for in the recipe is too large, it allows the bread to spread out too far creating a flat loaf. I used a 4-quart casserole dish because it's what I had, and the loaf was a good size. However, for the sake of my holiday wish list I'm wondering if the 3 1/2 Quart Oval Le Creuset French Oven would be a good size and shape. Has anybody used this particular pot, or even the similarly sized 3 1/2 Quart Round Le Creuset French Oven to make the bread? Was it large enough?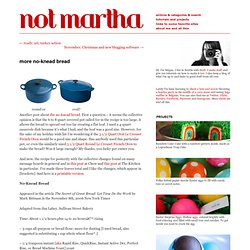 more no-knead bread
Strawberry season comes but once a year, and before you know it, you've spent way too much at the farmers' market buying an entire flat of them, only to panic when you remember they go bad faster than bananas. So what to do with all those juicy little red guys? Oh we've got your covered… Click on the photos for full recipes.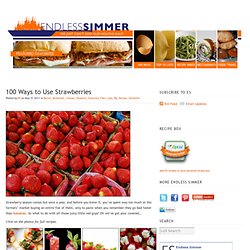 Oh baby. Oh yes. You can have your dough and eat it too.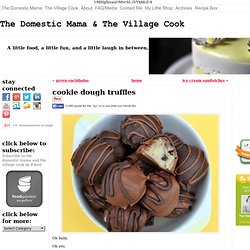 The good Huswifes Handmaide for the Kitchin, London 1594.
The good Huswifes Handmaide for the Kitchin. London 1594.-- Digital version: Thomas Gloning, 2005 (partial, to be continued)-- (c) You may use this digital version for scholarly, private and non-profit purposes. Please make sure that you do not violate copyright laws of your country. Do not remove this header from the file.-- URL: http://www.staff.uni-marburg.de/~gloning/1594-ghh.htm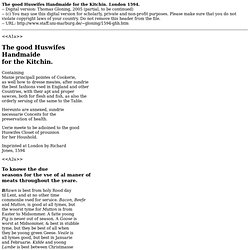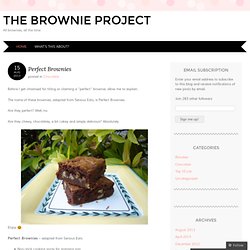 Summer is almost over……..school starts next week, and the days of hitting the ground with a running start at 5:00 a.m. will soon commence. It's crazy – where does the time go? I haven't posted anything since April – in fact, I think these are the first brownies I've baked since then. And quite frankly, that's almost shameful for a chocoholic such as myself…… So about these brownies – they're good. Really good.
FoodMayhem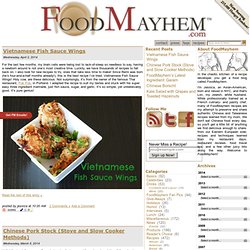 For the last few months, my brain cells were being lost to lack-of-sleep so needless to say, having a newborn around is not one's most creative time. Luckily, we have thousands of recipes to fall back on. I also look for new recipes to try, ones that take less time to make! Since Remi was born (he's four-and-a-half months already!), this is the best recipe I've tried: Vietnamese Fish Sauce Wings! Holy cow, are these delicious.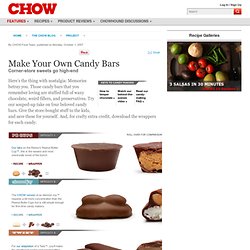 Here are the most common terms you'll come across as your candy-making odyssey begins. You'll also want to take a look at our behind-the-scenes video. Bloom: The gray mottling that sometimes appears on the surface of chocolate is a result of extremes in heat or humidity. Chocolate stored in a fridge is subject to too much humidity, which causes the sugars to crystallize. If your chocolate is too warm, it will melt slightly and the fats will separate out.
OH MY GOODNESS, am I one proud blogger! One month ago, I issued a Cheesecake Challenge in which I encouraged you to choose a WBB cheesecake recipe and tackle it in the kitchen. Was I ever impressed at the splendid results! Y'all are courageous, inspiring, and sweeter than fresh-picked strawberries. I kinda like ya. Know what else I like?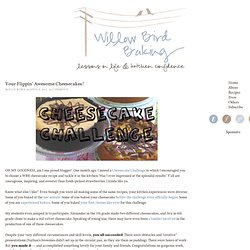 Your Flippin' Awesome Cheesecakes! | Willow Bird Baking
To make all of these Instructables, download this collection of How To's as an ebook. Download » "Copycat Candy Recipes" is your backstage pass to famous brand-name candies! You've grown up eating these classic brand name candies, now you can recreate them at home.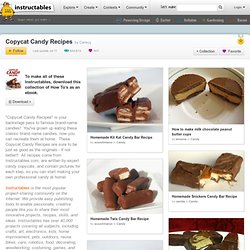 Courtesy of Food Network Magazine How to make a pizza: Step 1: Place a pizza stone or an inverted baking sheet on the lowest oven rack and preheat to 500 degrees. Step 2: Stretch 1 pound dough on a floured pizza peel, large wooden cutting board or parchment paper. Step 3: Top as desired, then slide the pizza (with the parchment paper, if using) onto the stone or baking sheet. Bake until golden, about 15 minutes. Pizza Dough Whisk 3 3/4 cups flour and 1 1/2 teaspoons salt.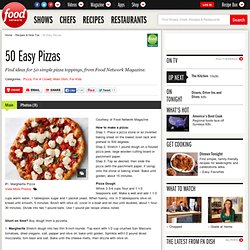 pumpkin cinnamon rolls (yeah, you heard me). | the cosmic cowgirl
i've had to take a short break and i won't bother you with the details. but i hope this will make it worth your while. to me, pumpkin can (and should) be adapted to just about any recipe, sweet or savory. i love the idea of it incorporated into a dough. while it imparts only a mild pumpkin flavor, the look and aesthetic are to die for. if you substitute as pumpkin puree for as much of the liquid as possible, you can really pump up the volume on the pumpkin-y-ness (sp? word?) oh, kitchen aid mixer with dough hook attachment, i will name my first born after you. promise. just look at this gorgeous dough. it just screams FALL!! i think this shadow looks like an elephant. anyhoo, brush butter on your rolled out dough rectangle.
I have wanted to have a go at bread making for quite some time, many years in fact, but something about it has always scared me. It has always seemed to me to be such an accomplished thing with so many skills and rules to master. Of course, I bet plenty of you make bread very successfully and will happily tell me I am wrong. Nothing to be afraid of Lucy! And yet, the fear had lodged itself and would not be shaken.
Desserts for Breakfast: An Open Letter to Paula Deen
Dear Ms. Paula Deen, My roommate, Maria, and I (pictured below) have wanted to write you for a long time now to thank you for being such a happy force in our lives. As graduate students, we're too often over-worked, almost always under-paid, and constantly surviving on far too little sleep, but whenever we hear your cheerful voice come through the television and see your love of life and your healthy appreciation for cream and butter, we can't help but smile along. Our absolute favorite Paula Deen moment has to be when you made a hamburger out of two donuts, complete with a fried egg and bacon!
This is a very special recipe for two important reasons: One, it's delicious, hearty, and comforting. Noodles. Meatballs.
50 Pizzas (1 - 10) : Recipes and Cooking
When we first saw these cookie cutters in July, we decided that this is what we would send out as Christmas gifts for family and friends. They have been an absolute hit! We gave away over 24 sets of them all packaged up nicely, and the reviews from everyone have been along the lines that the cookies were so awesome, they didn't want to eat them (but when they did, they loved them). Now that being said, these are very labor intense cookies if you decide to go all the way from baking to icing. The cutters do an amazing job (with the recipe enclosed) to provide a beautiful cookie without the icing. Icing them takes on average 15 minutes per cookie, but it's so worth the smile and surprise on peoples' faces.
Star Wars™ Heroes & Villains Cookie Cutters
Cooky Spoons
Cooking Cute: a bento site
GT Express 101 Recipes | Xpress 101 Grill | GT Xpress 101 Recipes
GT Xpress Cooking
Deep-Dish Chicken Cordon Bleu
Reese's Cheesecake Bars
Peanut Butter-Fudge Cheesecake {My 30th Birthday Cake} : Brown E
Save These 15 Creative Grilled Cheese Recipes