Healthy
Supercharged Food, Gluten Free Recipes, Shopping List and Meal Planner | Recipes. Shepherd's Pie with Cauliflower Mash « Supercharged Food's Blog. 28 Nov 2011 by Lee Supercharged in All, Autumn, Candida Friendly, Dairy Free, Dinner, Gluten Free, Lunch, Nutrient Rich, Sugar Free, Wheat Free, Winter, Yeast Free Tags: gluten free recipes, low carb, Shepherd's Pie with Cauliflower Mash Pepped Up Shepherd's Pie A new take on a golden oldie, this is a firm favourite in our family.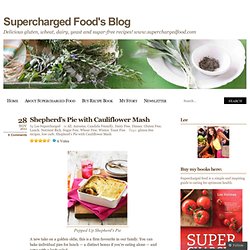 You can bake individual pies for lunch — a distinct bonus if you're eating alone — and serve with a leafy salad. Eggplant and lentil stacks. Hello friends, how was your weekend?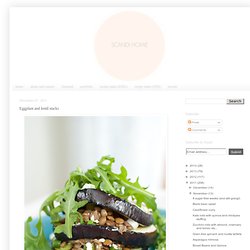 It was a very warm spring weekend here in Sydney, and we got the first real taste of summer. I did some gardening on my little balcony - the herbs are growing fast and now there are even a few tiny tomatoes popping up! Spiced tempeh chips. Tempeh goes in the same category with tofu - people seem to either love it or hate it.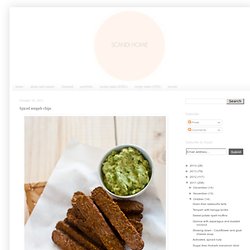 I personally love tofu (firmer, the better), but don't seem to cook tempeh often enough. These spiced chips were quite addictive, however, so I might just have to make a new batch very soon. I only really learned to use spices when I moved to Australia. Back in Finland my taste buds were quite happily adjusted to the traditional non-spicy food, but when I started tasting and cooking food in my new home-country, I soon realised that there was a whole world of spices for me to explore. Haloumi with vegetable medley. Happy Friday friends!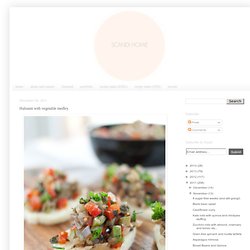 Today I'm sharing a little weekend snack recipe with you. I love the flavours in this dish, and the mellow vegetables pair nicely with the salty halloumi cheese. It's a perfect snack to enjoy when you have a little time to spend in the kitchen, just chopping away. Grain-free spinach and ricotta tartlets. Hi friends!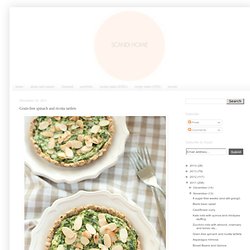 I was up early today and went for a morning run whilst the temperature was still bearable. Already then, I could see the haze covering the distant landscape and that if anything is a sure indication of a hot and humid day ahead. I really wanted to make these spinach and ricotta tartlets for our Saturday lunch so I started baking early in the morning before our little kitchen gets far too hot. These grain-free tarts are such a lovely treat and definitely one of my favourite stand-by dishes to make. Grain-free, sugar-free zucchini mini-cakes with mint yoghurt. Week 5 of my sugar-free challenge is now well under way.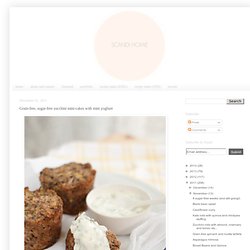 I have certainly broken the habit of looking for that 'something sweet' after meals and found a heap of alternative ways to enjoy baked treats. Not even the fresh new-season mangoes can lure me in at this point! Grain-free ratatouille tarts. I love the serenity of Sunday mornings.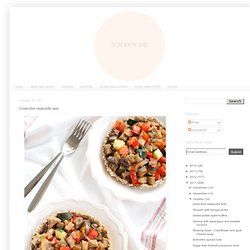 I am always up early, go for a long power walk, have a big breakfast and more often than not, prepare something to have later in the day for lunch or afternoon tea. These irresistible ratatouille tarts have been my recent favourite for a weekend lunch. In the past I've made them with a normal spelt flour base and topped them with goat or feta cheese, but after cutting down on grains, this almond crust is just perfect. I've left the cheese out this time too, but feel free to crumble some on, if you wish. You can play with the ingredients as well, try wild mushrooms or other seasonal ingredients that are available in your corner of the world. Black bean salad.
It's been a hectic weekend with lots of packing, organising, planning.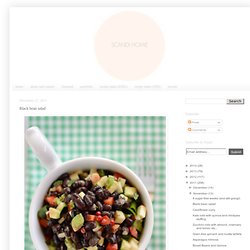 Fun times, but exhausting as well. I had clearly been in denial of how much stuff we had actually managed to accumulate in 5 years. Pea and avocado soup with watercress and snow pea sprouts. On the weekend I picked up a huge selection of fresh vegetables and started experimenting with different combinations.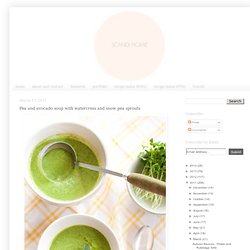 It is so uplifting to see all the fresh produce, to touch it, to smell it and to taste it. The beautiful colours of these natural ingredients are the best inspiration one could hope for. Chickpea patties with avocado dip. Firstly, thank you all for such supportive feedback on my sugar-free challenge!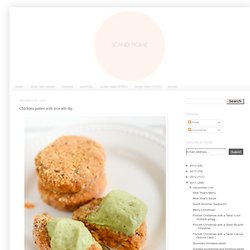 I am really glad to hear so many of you have been inspired to join the challenge and the rest of you are at least considering it! Please don't hesitate to contact me if you'd like more info or tips, or you'd like to give more feedback. Secondly, we are finally moving this weekend. The long 12-week settlement period is finally over and we will get the keys into our new home tomorrow.
Sugar-free Christmas Baking: Spiced sweet potato tarts. The recent happenings (moving house, work, etc.) have made me realise why some people might find it so hard to stay on track with their healthy eating and exercise. As soon as life gets busy - you're travelling, working long hours or there is something new happening in your life, you start taking short-cuts and sacrifice your healthy routines.
Often people find it easier to stick to their healthy habits when they have time to really focus on making conscious choices of what and how to eat, exercise and get enough sleep. As soon as other things get on the way, they lapse and might find it hard to get back on track. I think the only thing that can keep you always on track is that those healthy habits are so established in your life that they are part of your lifestyle and thus you make the right choices subconsciously.
I'm often told how healthy I am or how 'good' I am because I exercise daily, but for me it's just my lifestyle, the way I've chosen to live. Heidi's Oat Cakes. Dear sweet old elegant lady at the park, I'm glad our paths crossed today. You were on your afternoon stroll when you saw me taking photos of flowers (roses, specifically), because that's what I do when I need to clear my head.
You must've been intrigued as you walked over and struck up a conversation with me. Am I a high school student, you asked. I didn't know whether to take that as a compliment or as a sign to consider a wardrobe makeover. Breakfast Quinoa | Cookie and Kate. 8 sugar-free weeks (and still going!) Hi friends! As promised, here is a little recap of my sugar-free challenge (so far) - how it all started, how it went and how I am feeling now.
These past eight weeks have really been just the beginning. I have no urge to go back to having sugar in my life, and as you're about to see I am doing quite well without it! So, eight weeks a go I came across this book (Click here for the book). I bought it, and started reading it. Meatless Monday: Chanterelle Soup. Tuesday eats: brown rice. So. Today. I start filming my new TV show. 19 very clever things to do with coconut oil.
---