Artists
Art.sy - Discover fine art. Sistine Chapel. Do Now #16: Is Graffiti Art? Photo by Lachlan Hardy from Flickr To respond to the Do Now, you can comment below or tweet your response.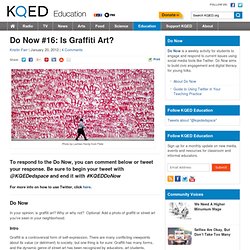 Be sure to begin your tweet with @KQEDedspace and end it with #KQEDDoNow For more info on how to use Twitter, click here. Street art. DeviantART muro. Cultural and Heritage Affairs - Atlantic County Government. MISSION The mission of Atlantic County Office of Cultural and Heritage Affairs is to develop countywide programs and promote public interest in local and county history, in the arts, and in the cultural traditions of the community.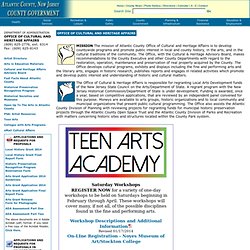 The Office, with the Cultural & Heritage Advisory Board, makes recommendations to the County Executive and other County Departments with regard to the restoration, operation, maintenance and preservation of real property acquired by the County. The Office develops cultural programs, exhibits and displays including the fine and performing arts and the literary arts, engages in historic research, publishes reports and engages in related activities which promote and develop public interest and understanding of historic and cultural matters. The Office of Cultural & Heritage Affairs is responsible for regranting Local Arts Development funds of the New Jersey State Council on the Arts/Department of State. Street to Studio: The Art of Jean-Michel Basquiat, presented by JPMorganChase. Www.artbma.org/flash/F_conekids.swf.
---