Info literacies
Troubleshooting LibGuide | Mitchley's DMU Blog. Over the past few weeks, DMU Library's Content Delivery (CD) Team have been working on constructing a LibGuide to assist DMU Library staff with online resources troubleshooting.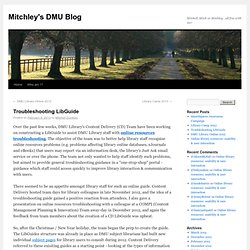 The objective of the team was to better help library staff recognise online resources problems (e.g. problems affecting library online databases, eJournals and eBooks) that users may report via an information desk, the library's Just Ask email service or over the phone. The team not only wanted to help staff identify such problems, but aimed to provide general troubleshooting guidance in a "one-stop-shop" portal - guidance which staff could access quickly to improve library interaction & communication with users.
There seemed to be an appetite amongst library staff for such an online guide. Welcome - Online Resources Troubleshooting - Library Guides at De Montfort University. Library Original Search Engine / Enokson / CC BY 2.0 Welcome to the DMU Library E-Resources Troubleshooting guide.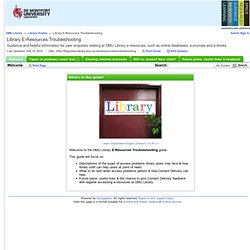 This guide will focus on: Descriptions of the types of access problems library users may face & how library staff can help users at point of need.What to do next when access problems persist & how Content Delivery can help.Future plans, useful links & the chance to give Content Delivery feedback with regards accessing e-resources at DMU Library. Want your learners to be more independent? – Information Literacy Doing Overtime « LibeRaCe's Library Blog.
Posted by LibeRaCe on May 23, 2012 At the RSC North West 'Want your learners to be more independent?'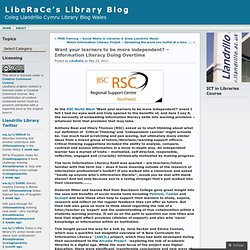 Event I felt I had my eyes well and truly opened to the benefits of, and dare I say it, the necessity of embedding information literacy skills into learning provision – whatever form that provision that may take. Information Literacy Website.
Research & discussion. Info skills examples. Diagnostic.
---