Watching
IFC - Always On. Slightly Off. Network Awesome - Sat, Sep 8. Comic Book Movies: Superhero Movies, The Avengers, Batman, Superman, Spider-Man, Captain America, Green Lantern, Thor, X-Men First Class, Iron Man 3. Oscilloscope. Star Trek Videos. Anthony Jeselnik: Stand Up Videos and Funny Clips. Anthony Jeselnik was born and raised in Pittsburgh, PA.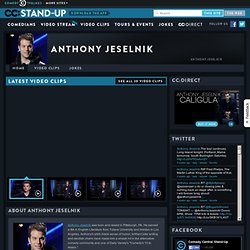 He earned a BA in English Literature from Tulane University and resides in Los Angeles. Anthony's pitch-black sense of humor, brilliant joke writing and devilish charm have made him a smash hit in the alternative comedy community and one of Daily Variety's "Comedy's 10 to Watch. " Video. Video. Watch Full Episodes. Watch TV. Watch Movies. | Online | Free | Hulu. TV Guide. SMBC Theater. Whitestone Motion Pictures.
TED: Ideas worth spreading.
---