Watching
IFC - Always On. Slightly Off.
Network Awesome - Sat, Sep 8
David Lee Roth (born October 10, 1955)[1]:p.11 is an American rock vocalist, songwriter, actor, author, and former radio personality. In 2007, he was inducted into the Rock and Roll Hall of Fame. Roth is best known as the original (1974–1985) and current (2006–present) lead singer of the Southern California-based hard rock band Van Halen. He is also known as a successful solo artist, releasing numerous RIAA-certified Gold and Platinum records.[2] After more than two decades apart, Roth re-joined Van Halen in 2006 for a North American tour that became the highest grossing in the band's history[3] and one of the highest grossing of that year.[4] In 2012, Roth and Van Halen released the critically successful comeback album, A Different Kind of Truth.
We've already seen the base photo, but this new poster for the upcoming The Amazing Spider-Man 2 is pretty shocking, (pun intended) as it features our wall-crawler (Andrew Garfield), as he faces the film's main villain, Electro (Jamie Foxx) in his full costume, which fans will enjoy. Featuring a much better look at Star-Lord, Gamora, Drax, Groot and Rocket Raccoon, hit the jump and check out promotional artwork by Zak! Designs for Marvel's Guardians of the Galaxy in high-resolution! There's no word on whether it will have an impact on the July 2015 release date, but a new report claims that Ben Affleck has sustained a serious enough leg injury to delay the start of production on Batman Vs.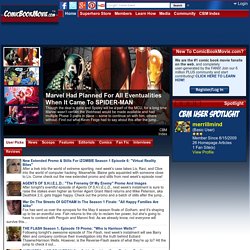 Comic Book Movies: Superhero Movies, The Avengers, Batman, Superman, Spider-Man, Captain America, Green Lantern, Thor, X-Men First Class, Iron Man 3
Oscilloscope
Star Trek Videos
Anthony Jeselnik: Stand Up Videos and Funny Clips
Anthony Jeselnik was born and raised in Pittsburgh, PA. He earned a BA in English Literature from Tulane University and resides in Los Angeles. Anthony's pitch-black sense of humor, brilliant joke writing and devilish charm have made him a smash hit in the alternative comedy community and one of Daily Variety's "Comedy's 10 to Watch."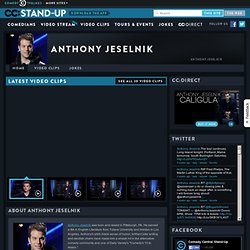 Video
Video
Watch Full Episodes
Watch TV. Watch Movies. | Online | Free | Hulu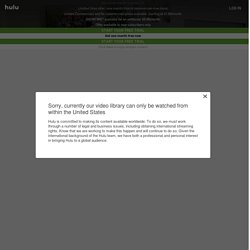 Sorry, currently our video library can only be watched from within the United States Hulu is committed to making its content available worldwide. To do so, we must work through a number of legal and business issues, including obtaining international streaming rights. Know that we are working to make this happen and will continue to do so. Given the international background of the Hulu team, we have both a professional and personal interest in bringing Hulu to a global audience.
TV Guide
SMBC Theater
Whitestone Motion Pictures
Melinda Gates and Bill Gates Why giving away our wealth has been the most satisfying thing we've done In 1993, Bill and Melinda Gates—then engaged—took a walk on a beach in Zanzibar, and made a bold decision on how they would make sure that their wealth from Microsoft went back into society. In a conversation with Chris Anderson, the couple talks about their work at the Bill & Melinda Gates Foundation, as well as about their marriage, their children, their failures and the satisfaction of giving most of their wealth away.
TED: Ideas worth spreading