History
Top 100 Speeches of the 20th Century by Rank. List of common misconceptions. This incomplete list is not intended to be exhaustive.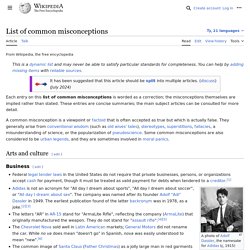 This list corrects erroneous beliefs that are currently widely held about notable topics. Each misconception and the corresponding facts have been discussed in published literature. Note that each entry is formatted as a correction; the misconceptions themselves are implied rather than stated. History. SLANG in the Great Depression. Africa_1808.jpg (JPEG Image, 2020x1740 pixels) - Scaled (37. 5 myths about Christopher Columbus. Today is Columbus Day, time to buy appliances on sale and contemplate other things that have nothing to do with Christopher Columbus.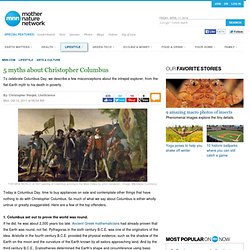 So much of what we say about Columbus is either wholly untrue or greatly exaggerated. Here are a few of the top offenders. The 15 Most Infamous Assassinations in History - GOOD Blog. Yesterday was March 15, historically known as the Ides of March, on which, according to the dramatic the likes of Plutarch and Shakespeare, Julius Caesar was overthrown and killed by his frustrated Senate.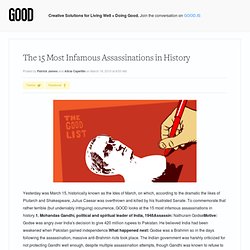 To commemorate that rather terrible (but undeniably intriguing) occurrence, GOOD looks at the 15 most infamous assassinations in history.1. Mohandas Gandhi, political and spiritual leader of India, 1948Assassin: Nathuram GodseMotive: Godse was angry over India's decision to give 420 million rupees to Pakistan. He believed India had been weakened when Pakistan gained independence.What happened next: Godse was a Brahmin so in the days following the assassination, massive anti-Brahmin riots took place. The Indian government was harshly criticized for not protecting Gandhi well enough, despite multiple assassination attempts, though Gandhi was known to refuse to cooperate with security.2. John F. 6 Insane Coincidences You Won't Believe Actually Happened. Normally at Cracked, we're all about finding answers to tough questions.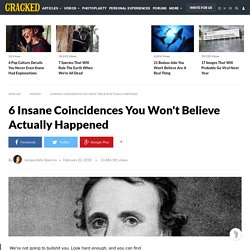 Whether we're using simple science to explain day-to-day nuisances or showing that the world's "greatest mysteries" actually have totally obvious solutions, we're always trying to strengthen our status as leaders in the extremely specific field of "Informative Comedy Websites That Occasionally Feature Explosions of Male Nudity. " Most recently, we found an idea that seems totally crazy -- how three different people invented Harry Potter at pretty much the same time -- and recorded a podcast where we came up with multiple explanations for how it could've happened. And only one of our ideas involved ghosts. But that show reminded us of this old Cracked Classic and its sequels, which talk about coincidences so crazy that, honestly, we're not even sure blaming ghosts makes sense.
A history of conflicts - StumbleUpon.
---