Recipe sites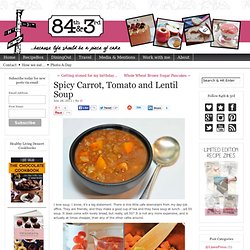 I love soup. I know, it's a big statement. There is this little cafe downstairs from my day-job office. They are friendly, and they make a good cup of tea and they have soup at lunch….$8.50 soup. It does come with lovely bread, but really, $8.50?
Rachel Allen
Pumpkin Pie Dip Recipe (And Homemade Pumpkin Pie Spice)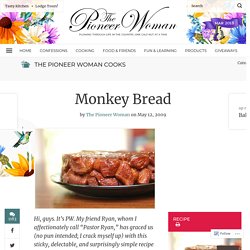 Hi, guys. It's PW. My friend Ryan, whom I affectionately call "Pastor Ryan," has graced us (no pun intended; I crack myself up) with this sticky, delectable, and surprisingly simple recipe for…Monkey Bread. Take it, Ryan! That's right…Monkey Bread. Although I'm almost certain there are no actual monkeys in this recipe, it's still very good.
Monkey Bread
Brownies and cakes you mix in a mug and microwave in a minute are saving peoples' sweet teeth around the world — it occurred to me that a gluten-free variation would be simple, particularly a version of this mug brownie, which is eaten straight from the mug, and so doesn't require much in the way of structure. I gave it a spin with a number of gluten-free flours – quinoa, oat, brown rice and a gluten-free blend I picked up in bulk at the natural foods store. Who needs gluten, anyway?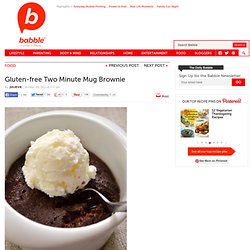 Gluten-free Two Minute Mug Brownie
Starring TV, radio personality and author, Lauren Groveman Baking Made Easy! Two-Toned BakingCookie SecretsThanksgivingChristmas Breads MoreInfo Yummy Marbled Pound Cake!
Orange-Scented Currant Scones - Baking Made Easy!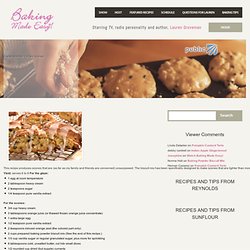 Maple Cayenne Roasted Brussels Sprouts | Not Rachael Ray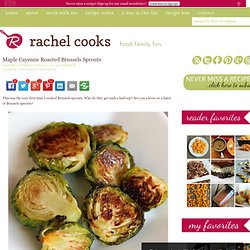 This was the very first time I cooked Brussels sprouts. Why do they get such a bad rep?
Meatless
High-Protein Breakfast Ideas - Recipes for High Protein Breakfasts
Guest Post: Creamy Coconut Macacado Smoothie
Aloha ladies and gentlemen! This is Todd, better known as Primal Toad, with a special smoothie recipe to pass on to you. Many of you may know me from blogging over at PrimalToad.com. I am the author of Toadally Primal Smoothies which you can buy for only $5. I'm a primal enthusiast who is helping bring primal/paleo/ancestral health to the mainstream.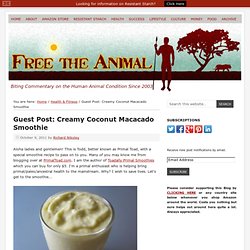 It feels like yesterday, but the memory is fresh. Eons ago, I happened to spot some "white slabs" sitting next to my all time favorite Paneer, in the aisle of the grocery store I frequented. See, I was this good girl who went shopping for my mom during the weekends, all on my own, so that my mom can relax her feet.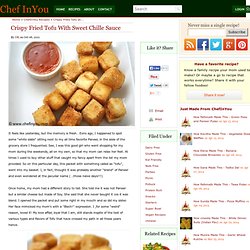 Red Bean Stew — Recipes for Health
I had some leftover delicata squash from dinner so I decided to see what I could make for breakfast with it! I came up with the best Gluten Free, Dairy Free, Sugar Free, oil Free pancakes I've ever had! 3/4 cup Sorghum or Brown rice flour (I used Sorghum) 1/2 cup Arrowroot flour 1 1/2 tsp Baking powder 1 tsp your fav sweetener (if liquid add with wet ingredients below) 1/2 tsp salt 1/2 tsp pumpkin pie spice (optional) 1 tsp vanilla 1 egg 1 Tbs Flax meal mixed w/ 2 Tbs hot water (let gel for 5 min before adding) 1 cup + 1 Tbs Dairy free milk (I used rice milk) 1/4 cup cooked squash or pumpkin Mix together the dry ingredients in one bowl and the wet in another. Heat up your cast iron skillet or pan of choice. ...
September 2011
Big changes are happening over on my workouts page and even bigger changes are happening with my marathon training plans. February has been a challenge for me, I was losing muscle, motivation, and forgetting why I began running in the first place. My passion was slowly exiting.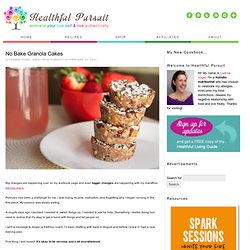 Welcome to The GOOD Lunch. Every Tuesday and Thursday for the next year, the GOOD team has pledged to take it in turns to cook and share a big bowl of healthy, vegetarian, seasonal soup or salad. We're on the hunt for new recipes that are easy to bring, serve, and share in the workplace, and we will post everything we try, along with a five-star ranking of its portability and taste. We hope this will inspire you to make your office lunch a good one. Lentil-Potato-Spinach Soup (inspired by a Bon Appetit recipe from May 1995) The Ingredients: Makes 10-12 servings 1/2 cup olive oil 6-8 large garlic cloves, chopped 3 quarts canned vegetable broth 4 cup lentils, rinsed, picked over 2 lbs red-skinned potatoes, cut into 1/2-inch pieces 3 lemons 1 lb torn fresh spinach leaves (about 6 quarts) 1 teaspoon cayenne pepper 1 cup chopped fresh mint (dried will suffice if you cannot find fresh) Crumbled feta cheese (optional)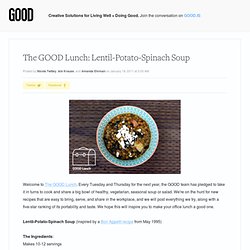 The GOOD Lunch: Lentil-Potato-Spinach Soup - Food
We love bread. I guess looking at my Bread Recipes section, you would have guessed that already. Though I have baked breads (and a lot number of them), I have not ventured into inventing my own recipes.
Wholegrain Honey Bread with Graham Recipe | Wheat Honey Bread
Test Kitchen Favorite