Apps
Games can sometimes provide us with opportunities to fail. It is this failing that allows us to learn. This is necessary in order to improve our next attempt and our next, until we get it right. Some of the most interesting games come without any instructions at all and mean that the very nature of the game itself needs to be discovered. This fits in perfectly with how kids use and embrace new technology - no one read the instructions - they just press the buttons until they work out what they all do.
Discovery Learning: Games Designed to Make you Fail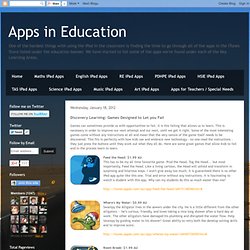 The Top 30 Education Apps From 2007 To Today
The following is an excerpt from the August issue of the Edudemic Magazine for iPad . The full article lists off the top 50 apps (rather than just the 30 here). The app is free and issues are just a couple bucks.
It seems as though the minute the iPad was announced, innumerable light bulbs went off as developers and entrepreneurs everywhere came to the same realization: "We could totally use this device as a digital whiteboard!" Indeed, a search for the word "whiteboard" in the App Store returns a whopping 170 iPad apps. Although the device's 10-inch screen may not compare to a full-sized, physical whiteboard, it can be quite handy to use a virtual whiteboard with team members remotely, and the iPad's form factor suits itself quite well to exactly that. As we mentioned, the App Store is loaded with these kinds of apps, and many of them are quite good. To help narrow things down, we've rounded up five of the best ones, focusing on apps that are either free or have a freemium pay model. SyncSpace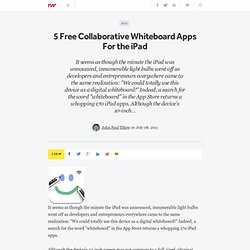 Just to wrap up our week of apps for teachers here are some favourites that will make your iPad a little more productive in the classroom. Enjoy iWork Until Microsoft release office for the iPad iWork offers the MS Works equivalent of a productivity suite for the iPad. Pages, Numbers and Keynote make for a fairly impressive productivity suite for $30, or $10 each. Teaching & Classroom Resources @ www.theteachinglab.com The Elements: A Visual Exploration: Sounds a bit pricey for a periodic table, but the vividly animated illustrations of every substance our world is made of more than make up for it. $14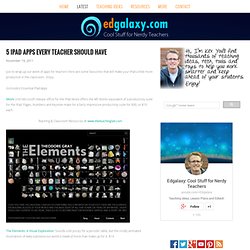 Countdown