Individuals
Sex, Lies and Julian Assange (Four Corners)
4 .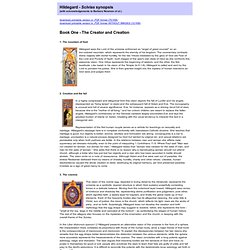 Scivias book 1 - synopsis
TEDxHouston - Dr. David Eagleman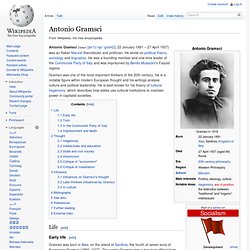 Antonio Gramsci
Antonio Gramsci ( Italian: [anˈtɔːnjo ˈɡramʃi] ; 22 January 1891 – 27 April 1937) was an Italian writer , philosopher , politician , political theorist , sociologist , and linguist . He was a founding member and onetime leader of the Communist Party of Italy and was imprisoned by Benito Mussolini 's Fascist regime. Gramsci was one of the most important Marxist thinkers in the 20th century.
Sidis Archives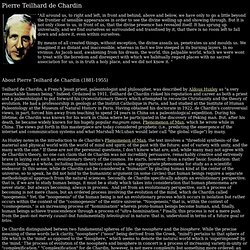 Pierre Teilhard de Chardin
Pierre Teilhard de Chardin
Pierre Teilhard de Chardin -- Toward a Science Charged with Faith
Martin Demaine
Erik Demaine
5 People You've Never Heard Of Who Saved the World
John F. Kennedy? You've heard about him.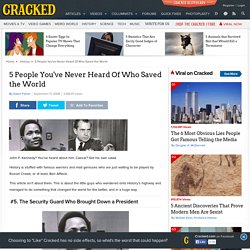 A Good CEO For A Change - Neatorama
In a world filled with headlines about CEO's and executives running their companies to the ground, and holding lavish parties and getaways on taxpayer funded bailouts, here is a refreshingly touching story of one very different individual. Leonard Abess Jr., CEO of City National Bank in Florida, sold 83% of his stake in the bank to a Spanish company, and then used the proceeds to reward his very own employees. At a time when bankers are being pilloried on Capitol Hill as heartless and greedy, Leonard Abess Jr. stands apart.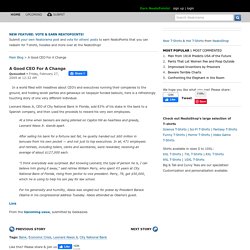 Esref Armagan
The Noam Chomsky Website
Guillaume de Machaut
Machaut (at right) receiving Nature and three of her children. From an illuminated Parisian manuscript of the 1350s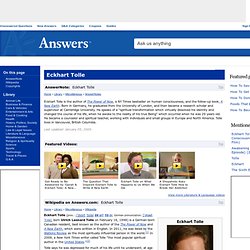 Eckhart Tolle: Information and Much More from Answers
Eckhart Tolle ( pron.: / ˈ ɛ k ɑr t ˈ t ɒ l ə / EK -art TO -lə ; German pronunciation: [ˈɛkaʁt ˈtɔlə] , born Ulrich Leonard Tolle on February 16, 1948) is a German-born Canadian resident, best known as the author of the The Power of Now and A New Earth , which were written in English. In 2011, he was listed by the Watkins Review as the most spiritually influential person in the world. [ 1 ] In 2008, a New York Times writer called Tolle "the most popular spiritual author in the United States ." [ 2 ] Tolle says he was depressed for much of his life until he underwent, at age 29, an "inner transformation", then spent several years wandering and unemployed "in a state of deep bliss" before becoming a spiritual teacher.