Individuals
General Assembly General Debate of the [node:field-ga-session]th Session - Uruguay. JOSÉ MUJICA, President of Uruguay, said that he came from the South, from the corner of the Atlantic and the Plate River.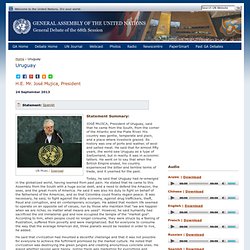 His country was gentle, temperate and plain, and a place where livestock grazed. Its history was one of ports and leather, of wool and salted meat. He said that for almost fifty years, the world saw Uruguay as a type of Switzerland, but in reality it was in economic tatters. He went on to say that when the British Empire ended, his country experienced the bitter and terrible terms of trade, and it yearned for the past.
Sex, Lies and Julian Assange (Four Corners) Scivias book 1 - synopsis. 4.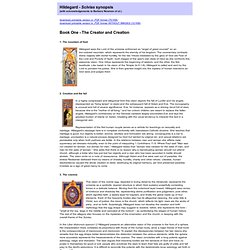 Soul and body In this three-part vision Hildegard begins with a powerful myth, continues with teaching on human nature and psychology, and closes with a series of moral exhortations. The vision must have been a favourite with the artist, who illustrated it with three separate paintings. Welcome to the Possibilium. TEDxHouston - Dr. David Eagleman. Antonio Gramsci. Antonio Gramsci (Italian: [anˈtɔːnjo ˈɡramʃi]; 22 January 1891 – 27 April 1937) was an Italian Marxist theoretician and politician.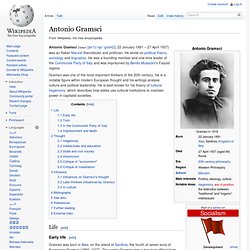 He wrote on political theory, sociology and linguistics. He was a founding member and one-time leader of the Communist Party of Italy and was imprisoned by Benito Mussolini's Fascist regime. Sidis Archives. Pierre Teilhard de Chardin. Pierre Teilhard de Chardin "All around us, to right and left, in front and behind, above and below, we have only to go a little beyond the frontier of sensible appearances in order to see the divine welling up and showing through.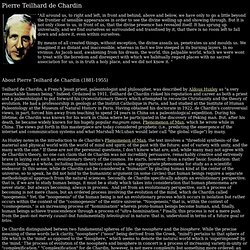 But it is not only close to us, in front of us, that the divine presence has revealed itself. It has sprung up universally, and we find ourselves so surrounded and transfixed by it, that there is no room left to fall down and adore it, even within ourselves. By means of all created things, without exception, the divine assails us, penetrates us and moulds us. Pierre Teilhard de Chardin -- Toward a Science Charged with Faith. Toward a Science Charged with Faith Chapter 5 of God and Science by Charles P.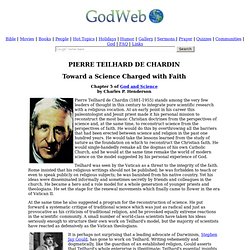 Henderson Pierre Teilhard de Chardin (1881-1955) stands among the very few leaders of thought in this century to integrate pure scientific research with a religious vocation. Martin Demaine. Erik Demaine. 5 People You've Never Heard Of Who Saved the World. John F.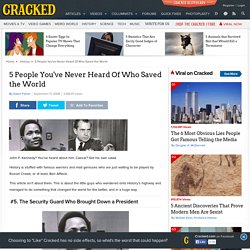 Kennedy? You've heard about him. A Good CEO For A Change. In a world filled with headlines about CEO's and executives running their companies to the ground, and holding lavish parties and getaways on taxpayer funded bailouts, here is a refreshingly touching story of one very different individual.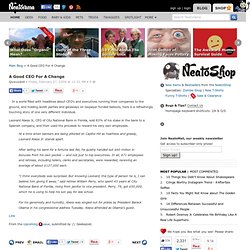 Leonard Abess Jr., CEO of City National Bank in Florida, sold 83% of his stake in the bank to a Spanish company, and then used the proceeds to reward his very own employees. At a time when bankers are being pilloried on Capitol Hill as heartless and greedy, Leonard Abess Jr. stands apart.After selling his bank for a fortune last fall, he quietly handed out $60 million in bonuses from his own pocket — and not just to top executives. In all, 471 employees and retirees, including tellers, clerks and secretaries, were rewarded, receiving an average of about $127,000 each. "I think everybody was surprised. Esref Armagan. The Noam Chomsky Website. Guillaume de Machaut. Machaut (at right) receiving Nature and three of her children.
From an illuminated Parisian manuscript of the 1350s (sometimes spelled ) (c. 1300 – April 1377) was a Medieval French poet and composer . He is one of the earliest composers on whom significant biographical information is available. According to Daniel Leech-Wilkinson , Machaut was "the last great poet who was also a composer". Well into the 15th century, Machaut's poetry was greatly admired and imitated by other poets, including Geoffrey Chaucer .
Eckhart Tolle: Information and Much More from Answers. Eckhart Tolle (pron.: /ˈɛkɑrt ˈtɒlə/ EK-art TO-lə; German pronunciation: [ˈɛkaʁt ˈtɔlə], born Ulrich Leonard Tolle on February 16, 1948) is a German-born Canadian resident, best known as the author of the The Power of Now and A New Earth, which were written in English.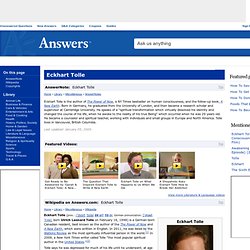 In 2011, he was listed by the Watkins Review as the most spiritually influential person in the world.[1] In 2008, a New York Times writer called Tolle "the most popular spiritual author in the United States.
---