Mind Mapping Resources, Tools, and Tips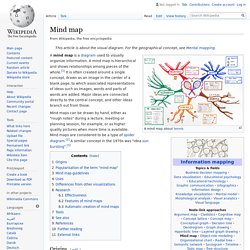 Hand-drawn and computer-drawn variations of a mind map. A mind map is a diagram used to visually outline information. A mind map is often created around a single word or text, placed in the center, to which associated ideas, words and concepts are added. Major categories radiate from a central node, and lesser categories are sub-branches of larger branches.[1] Categories can represent words, ideas, tasks, or other items related to a central key word or idea.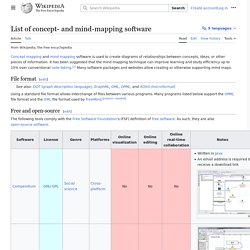 Concept-mapping and mind-mapping software are used to create diagrams of relationships between concepts, ideas or other pieces of information. It has been suggested that the mind mapping technique can improve learning/study efficiency up to 15% over conventional note taking.[1] File format[edit] Using a standard file format allows interchange of files between various programs. Many of the programs listed below support the mm format used by FreeMind. The mm format is an XML text format consisting of tagged objects.
Mind Mapping Software
Below you will find a comprehensive list of Mind Mapping software packages. Click on the Mind Map® software package you are interested in to go to a page that gives a brief overview of the product and links to other sites that provide more detailed information and purchasing facilities: If you have a Mind Mapping software package that you would like to have included on this site please contact us. As the world's leading provider of Mind Mapping training for business, we are often asked which Mind Map (MindMap) software we recommend. We have made a detailed study of the various products on the market and have come to the view that the Mind Map/Visual Mapping software market has developed so rapidly in the last few years, that a site containing details of all of the major software packages, including; Mindjet MindManager, MindGenius, iMindMap (the offering from Tony Buzan himself), NovaMind... and many others - would be of real benefit.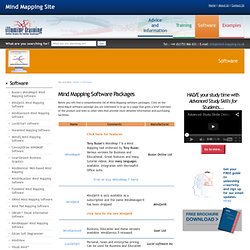 FreeMind is a premier free mind-mapping software written in Java. The recent development has hopefully turned it into high productivity tool. We are proud that the operation and navigation of FreeMind is faster than that of MindManager because of one-click "fold / unfold" and "follow link" operations. So you want to write a completely new metaphysics? Why don't you use FreeMind? You have a tool at hand that remarkably resembles the tray slips of Robert Pirsig, described in his sequel to Zen and the Art of Motorcycle Maintenance called Lila.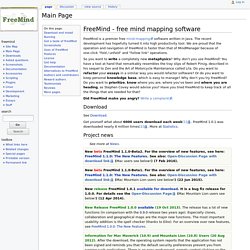 Works with Office/PDF How to make colleagues access our mind map if they don't have XMind? With some simple operations, we can export our mind map into about 10 universal formats by the export functionality. By this way, your team can collaborate seamlessly. We support exporting to Microsoft Word, Microsoft PowerPoint, Microsoft Excel (NEW), PDF, RTF, Plain Text, HTML, PNG, JPEG, GIF, BMP, SVG (NEW), Freemind, Mindjet MindManager. Also support importing from Freemind and Mindjet MindManager.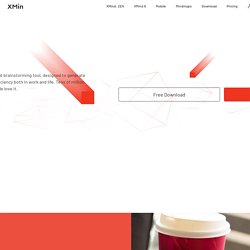 After you read this article, you will find out: What are the top rating free mind mapping software?What is the best free mind mapping software among many other?What are free concept mapping programs which available to use?What difference between professional and free mind mapping software?
Free Mind Mapping, Concept Mapping Software Reviews - iSoftwareReviews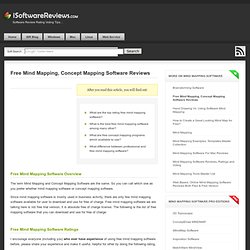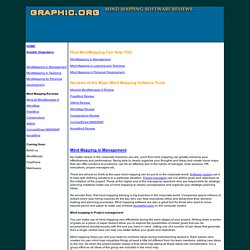 What is MindMapping? How to Create and Use MindMaps? Reviews of Mind Mapping Software
MindMapping in Management Mind Mapping in Learning and Teaching Mind Mapping in Personal Development
Mindmaps/Concept Maps
Tableau Public: create charts and interactive dashboards and publish them to the web
One way to describe this software is: take the Excel charting engine, make it a standalone app that can chart data from any source, and give it a web/community sharing component for publishing charts and dashboards on the web. Except this charting engine is light years ahead of Excel in terms of both its capabilities as well as ease of use. But take note: Tableau Public, while free, is not the same as a free version of the Tableau.What the developers have done is create a version of Tableau that is fully functional, but only if you are willing to make the charts and the data you use public for others to potentially see. They did this by restricting the user's ability to save their projects locally to their own hard drives, instead allowing them to only save to online storage accounts.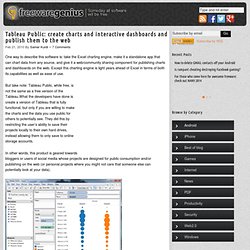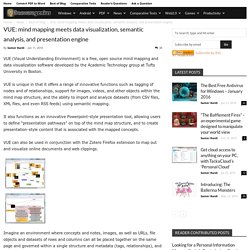 VUE: mind mapping software that combines data visualization, semantic analysis, and a full-fledged Powerpoint-style presentation engine in one
VUE (Visual Understanding Environment) is a free, open source mind mapping and data visualization software developed by the Academic Technology group at Tufts University in Boston. VUE is unique in that it offers a range of innovative functions such as tagging of nodes and of relationships, support for images, videos, and other objects within the mind map structure, and the ability to import and analyze datasets (from CSV files, XML files, and even RSS feeds) using semantic mapping. It also functions as an innovative Powerpoint-style presentation tool, allowing users to define "presentation pathways" on top of the mind map structure, and to create presentation-style content that is associated with the mapped concepts.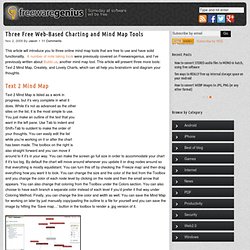 This article will introduce you to three online mind map tools that are free to use and have solid functionality. A number of note taking tools were previously covered on Freewaregenius, and I've previously written about Bubbl.us, another mind map tool. This article will present three more tools: Text 2 Mind Map, Creately, and Lovely Charts, which can all help you brainstorm and diagram your thoughts.
Three Free Web-Based Charting and Mind Map Tools
A map can concentrate a very complex content on little space e.g. a piece of paper. It helps to use both sides of your brain: the logical side and also your creative side (e.g. by using pictures, colors and keywords in a map, so called anchors). It is a technique to organize the way you think: It can help you by developing, sorting and memorizing your thoughts.
★ 4.4 Stars (163) 404 Downloads (This Week) Last Update: Download vym-2.2.4-2.1.x86_64.rpm Browse All Files
Great Web Tools – Free, Online Mind Mapping Software | The Digital Student Blog
If you are a visual learner, then you likely have begun using the concept of mind-mapping to organize your thoughts when planning an essay or project. Because of its free-flowing nature, the mind-mapping process is spectacular for brainstorming ideas or making sense of the relationship between various components of any subject you are studying. However, such a free-flowing process means that your hand-drawn mind map can become messy and cluttered very quickly. In the very same way that technology and word processing software has revolutionized the writing process, there are now many sites on the web that allow students to draw, manipulate and edit mind maps in a similar manner. And because each is web-based, you can also collaborate with any classmates you choose to share the mind maps with, turning your creation into a wiki mind map if you so desire.
Visualizing Knowledge. "Modern knowledge visualization tools may have started as simple drawing tools, but they have evolved into collaborative environments that help teams share information effectively, develop shared mental models and provide context in a way no other tool can." - Daniel W.
5 Best Free/Open-Source Mind Mapping Software for Linux