Writing, yea.
Telegraph | Arts | A novel in a year. How I Make My Living as an Online Writer (And How You Could Too) (Photo by Antonina, a fantastic London contemporary portrait photographer) The end of this month will mark three years since I left my day job.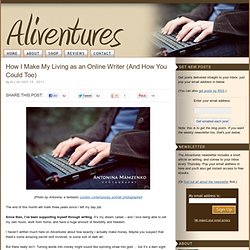 Since then, I've been supporting myself through writing. It's my dream career – and I love being able to set my own hours, work from home, and have a huge amount of flexibility and freedom. I haven't written much here on Aliventures about how exactly I actually make money. Maybe you suspect that there's some amazing secret skill involved, or some sort of dark art. How to Publish Your Own Book. Budding authors, you don't have to go through a big name publishing house to get your book into the hands of the public.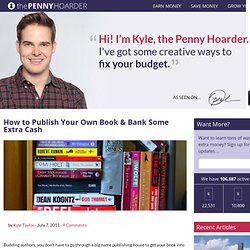 In fact, more and more writers are realizing just how beneficial it can be to self-publish. Not only does it allow authors to have more control over the finished product, it also makes it so they can keep a larger percentage of their profits, which can be really ideal in this economy. Today's authors have great ideas but don't want to lose valuable time pitching to agents and writing proposals. They need that time to put the finishing touches on their novel, autobiography or supernatural thriller. How I Make My Living as an Online Writer (And How You Could Too) 911 Writers Block. ^ Back to top We use cookies, just to track visits to our website, we store no personal details.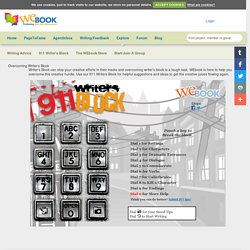 ACCEPT COOKIES What are cookies? Writing Prompts for Journals and Writers Notebooks. WritingFix: The Prompt Generator has Moved!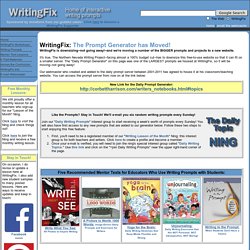 WritingFix is downsizing--not going away! --and we're moving a number of the BIGGER prompts and projects to a new website. It's true. 25 Things Every Writer Should Know. An alternate title for this post might be, "Things I Think About Writing," which is to say, these are random snidbits (snippets + tidbits) of beliefs I hold about what it takes to be a writer.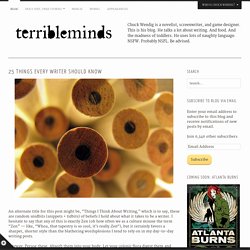 I hesitate to say that any of this is exactly Zen (oh how often we as a culture misuse the term "Zen" — like, "Whoa, that tapestry is so cool, it's really Zen"), but it certainly favors a sharper, shorter style than the blathering wordsplosions I tend to rely on in my day-to-day writing posts. Anyway. Peruse these. Absorb them into your body. Let your colonic flora digest them and feed them through your bloodstream to the little goblin-man that pilots you. 100 best first lines from novels. Following is a list of the 100 best first lines from novels, as decided by the American Book Review, a nonprofit journal published at the Unit for Contemporary Literature at Illinois State University: 1.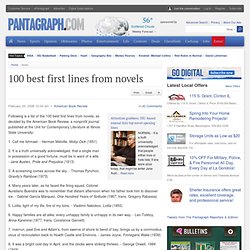 Call me Ishmael. - Herman Melville, Moby-Dick (1851) 2. It is a truth universally acknowledged, that a single man in possession of a good fortune, must be in want of a wife. - Jane Austen, Pride and Prejudice (1813) 100 Most beautiful words in the English language* FREE Online Rhyming Dictionary.