Recipes
Peanut Butter Balls (Buckeyes) Recipe With Picture - Joyofbaking.com ... Peanut Butter Balls: Line two baking sheets with parchment or wax paper.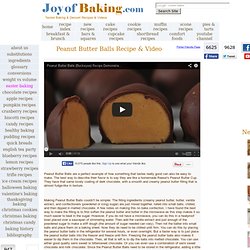 Place the peanut butter, unsalted butter, and salt in a microwaveable bowl, and heat in the microwave for about one minute or until just soft (check and stir the ingredients every 20-30 seconds). Stir in the vanilla extract and confectioners sugar and mix until it has the consistency of a stiff dough (add more sugar if necessary). Roll the dough into 1 inch (2.5 cm) round balls.
Place on the cookie sheets and refrigerate until firm (several hours or even overnight). I'm rich, I'm rich! Thousand Dollar Bars. Have you ever baked something that made you do the Daffy Duck?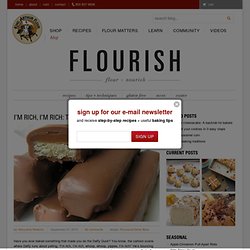 You know, the cartoon scene where Daffy runs about yelling, "I'm rich, I'm rich, whoop, whoop, yippee, I'm rich!" He's bouncing around on his head, feet, hands, and rump in a spastic outpouring of sheer joy. Salted Chocolate. We're watching our friend's cat right now, and it's a lot of fun.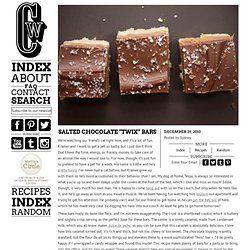 Kramer and I want to get a pet so badly, but I just don't think that I have the time, energy, or, frankly, money, to take care of an animal the way I would like to. For now, though, it's just fun to pretend to have a pet for a week. His name is Eddie and he's pretty funny. How to make milk chocolate peanut butter cups. This was a bit of an experiment to see if I could manage something like Reese's king size cups.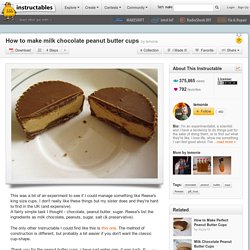 I don't really like these things but my sister does and they're hard to find in the UK (and expensive). A fairly simple task I thought - chocolate, peanut butter, sugar. Reese's list the ingredients as milk chocolate, peanuts, sugar, salt (& preservative). Cake Batter Chocolate Bark. I don't think I've ever been so excited to share a recipe with you.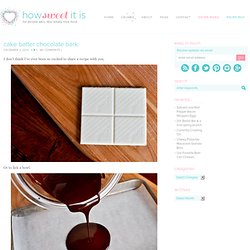 Or to lick a bowl. The secret ingredient here? You may think I'm crazy… but it's a spoonful of actual cake mix. All you must do is whisk it well into the melted white chocolate. A better buttercrunch? | It used to drive me crazy when my husband stopped to fix something.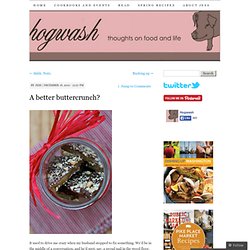 We'd be in the middle of a conversation, and he'd spot, say, a proud nail in the wood floor, and before I could so much as utter another syllable, he'd be down on his hands and knees with a hammer, pounding away. It only bothered me until I realized that in my own realm, I do the same thing. If there's something I don't like about a recipe, I tinker. Chocolate Fudge - Gift of the Day. Chocolate Peanut Butter Candy Bars — Buns In My Oven. I apologize.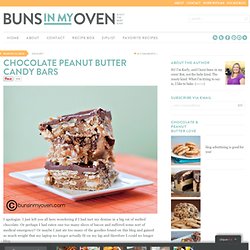 I just left you all here wondering if I had met my demise in a big vat of melted chocolate. Or perhaps I had eaten one too many slices of bacon and suffered some sort of medical emergency? Apartment Therapy The Kitchn | Recipe: Mailing Toffee. When I was a child, there weren't a lot of sweets in our house, but come Christmastime, little teasing bits of my mom's holiday toffee would show up in my normally sugar-starved lunch bag during the week before school let out.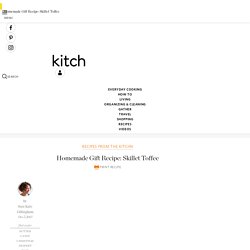 Then, during our annual Christmas Eve tamale party, huge platters would appear, with piles of the stuff stacked high like poker chips. Though I moved across the country almost twenty years ago, she hasn't missed a single season of toffee. These days if Mom isn't visiting for the holidays, she mails it to me, wrapped in little cellophane bags. If you can stand to share, a batch of Skillet Toffee makes a great gift for someone many zip codes away. A cast-iron skillet helps get the sugar hot, but any skillet will do. Apartment Therapy The Kitchn | Recipe: D.I.Y. Buckeyes. Do you know what a Buckeye is?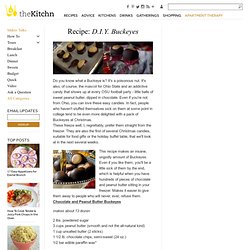 It's a poisonous nut. It's also, of course, the mascot for Ohio State and an addictive candy that shows up at every OSU football party - little balls of sweet peanut butter, dipped in chocolate. Even if you're not from Ohio, you can love these easy candies. In fact, people who haven't stuffed themselves sick on them at some point in college tend to be even more delighted with a pack of Buckeyes at Christmas. These freeze well. Apartment Therapy The Kitchn | Recipe: Chocolate Toffee Matzo Candy. It's not Passover yet, and it won't be for about a week.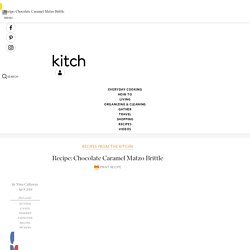 But while Passover gives us an reason to make this candy-like dessert, really there's no need to wait. Matzo (or matzoh or matzah), the Jewish unleavened cracker-like bread, is the perfect crunchy, flaky base for a thin coating of buttery caramel and melted chocolate, along with whatever toppings your heart desires. Crispy, flaky matzo covered with brown sugar caramel and bittersweet chocolate — this stuff is so addictive you won't want to wait for Passover.
---