OCW
FlexBooks. WikiEducator. Curriki. Open & Free Courses. National Repository. Videos for K-12 Students. Khan Academy. Free college education online. OpenLearn. List of Free Online Courses Subjects. 200 Free Online Classes.
150 Free Textbooks. Free textbooks (aka open textbooks) written by knowledgable scholars are a relatively new phenomenon.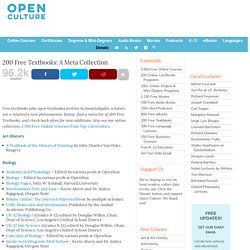 Below, find a meta list of 170 Free Textbooks, and check back often for new additions. Also see our online collection of Free Online Courses. Art History. Find OCW. OCW Consortium. Open Learning Initiative. LearnersTV. Academic Earth. Tufts OpenCours. GCFLearnFree. Computer training videos. Free Courses Online. See our list of the top schools offering free courses online.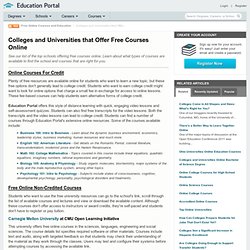 Learn about what types of courses are available to find the school and courses that are right for you. Online Courses for Credit Plenty of free resources are available online for students who want to learn a new topic, but these free options don't generally lead to college credit. Students who want to earn college credit might want to look for online options that charge a small fee in exchange for access to online lessons. These fee-based courses can help students earn alternative forms of college credit. MyCourses. TeacherTube.
---