Free E Books
Free eBooks. Onread.com. Free-ebooks.net. eBooks. Listing over 1 million free books on the Web - Updated Friday, April 25, 2014 Search our Listings -- New Listings -- Authors -- Titles -- Subjects -- Serials A public domain metadata gift for our 20th birthday -- Blog (Everybody's Libraries) -- Latest Book Listings A Celebration of Women Writers -- Banned Books Online -- Prize Winners Online General -- Non-English Language -- Specialty About Us -- FAQ -- Get Involved!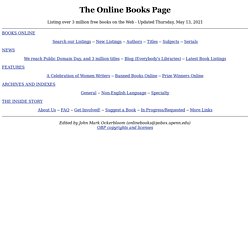 E-Books Directory. ManyBooks.net. Bartleby.com. Project Gutenberg. Feedbooks. Project Gutenberg - free ebooks.
Bibliomania - Free Online Literature and Study Guides.
---