Desserts
Get flash to fully experience Pearltrees
My mama e-emailed this recipe to me, and I'm not sure whether she did it because she loves me, or she wants me to die of dessert overdose. It's a chocolate cake in a mug!! HELLO! I ate it for lunch today, because I decided that it would take less time to make than a turkey sandwich. Maybe that's not true, and I ate it today because it's chocolate cake in a mug, but you get the point.
Biscuits, butter, sugar, cinnamon. I think that's all I need to say about this one. This stuff is astoundingly good. I grew up with monkey bread, but have never made it with this method - it works wonderfully. I think we're planning on selling these mini ones at the farmers market. Be careful if you use jumbo muffin cups like i did, the butter mixture spillled out a lot and got in the bottom of the oven.
Cheesecake Stuffed Strawberries Can I just say that I have died and gone to heaven. Cheesecake stuffed strawberries….how have I not made these before?! I'm serious.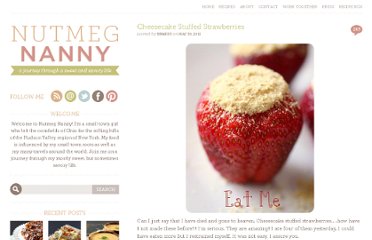 I've been in a mini-mood lately when it comes to baking and these bite-sized pies met my big craving. They are really, really easy. Let me show ya. Of course, it didn't hurt that I used ready to roll refrigerated pie crust.
These are individual-sized pies made in little glass jars that can go straight from your freezer to your oven to your mouth. SO cute. You can make these with store-bought crust and canned filling or jazz it up with homemade like we do. And just for added cuteness we teamed up with crafting expert Lolly for some personalized tags.
I had approximately one million blueberries in my refrigerator yesterday. They were left over from the Fourth of July and after making blueberry pancakes and blueberry muffins over the weekend, I'd barely made a dent in the stash. I considered making blueberry jam, but I wasn't sure I was psychologically equipped to sterilize jars and go scuba diving in our pond in search of my jar lifter, which I'm certain my boys had used as a frog catcher earlier this year…but that's another story for another time. This is a yummy, moist coffee cake bursting with scrumptious berries. Nothing fancy about it, and that's exactly what makes it so delicious.
Does anyone watch The Shield? Kramer and I have breezed through the first four seasons in a very short period of time. I'm not sure what's so addicting about it, but I really like the show! I'm surprised, too, because I'm usually not a fan of cop dramas. FX does it again!
We're watching our friend's cat right now, and it's a lot of fun. Kramer and I want to get a pet so badly, but I just don't think that I have the time, energy, or, frankly, money, to take care of an animal the way I would like to. For now, though, it's just fun to pretend to have a pet for a week. His name is Eddie and he's pretty funny .