DIY Crafts
DIY Solar Lamp: Make Your Own Eco-Friendly Sun Jars. The principle is simple and seductively clever: solar lights that store energy during the day and release light at night.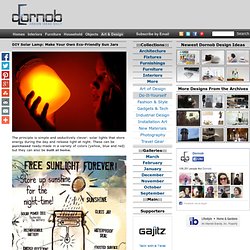 These can be purchased ready-made in a variety of colors (yellow, blue and red) but they can also be built at home. A simple, less-technical approach involves buying a conventional solar-powered yard lamp and then essentially harvesting it for key pieces to put in a jar. This is simply a way of taking an existing solar lamp design and appropriating its parts to make something more attractive for display around a house or home.
Magnetic Makeup Holder. Flashback: Woven Map Basket. Maps can be amazing design elements, with all their intricately drawn lines and minute details.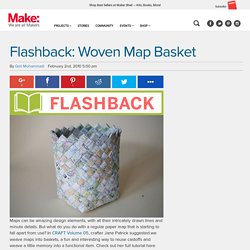 But what do you do with a regular paper map that is starting to fall apart from use? In CRAFT Volume 05, crafter Jane Patrick suggested we weave maps into baskets, a fun and interesting way to reuse castoffs and weave a little memory into a functional item. Check out her full tutorial here and pick up a back issue of CRAFT Volume 05, the Paper issue, in the Maker Shed.Woven Memory Basket Weave your vacation road maps into an attractive souvenir. Embroidery Designs at Urban Threads - Projects. Foldable Scrapbook How-To. Make a Perpetual Button Calendar for 2011 (and Beyond) By Diane Gilleland I know calendars (and clocks and address books) are quickly becoming computer-centric tools, but I like the old-school charm of this desk calendar.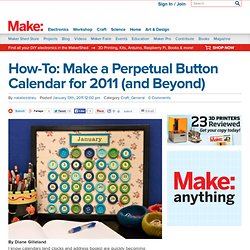 Make it once, and you can use it forever – just move the numbers to their correct location each month, and change the nameplate! Materials Picture frame, 11″x14″ or 16″x20″, see belowSheet of foam board or 1/2″-thick corkRuler Craft knife Piece of woven fabric, about 24″x30″ Spray adhesive Masking tape Scissors 42 large buttons, 3/4″ to 1″ in diameter 42 flat-head thumb tacks 5 sheets card stock, for numbers and nameplatesDownloadable name/number template 3/4″ circle punch, optional E-6000, or similarly strong glue Water-soluble fabric marker Fine-point Sharpie 2 squares of wool or acrylic felt 1 sheet of Friendly Felt, or lightweight chipboard Sewing machine and thread 2 sets Velcro dots plus 22 "loop" style dots (the softer half of a Velcro pair)Greeting card envelope. Fall Kitchen Crafts: Owl Towels. I can't tell you how much I love saying "Owl Towels" out loud.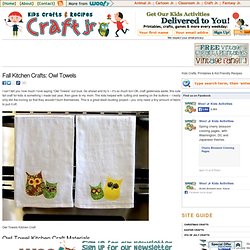 Go ahead and try it – it's so much fun! OK, craft geekiness aside, this cute fall craft for kids is something I made last year, then gave to my mom. The kids helped with cutting and sewing on the buttons – I really only did the ironing so that they wouldn't burn themselves. This is a great stash-busting project – you only need a tiny amount of fabric to pull it off. Owl Towels Kitchen Craft. Zine?p=1210 from leethal.net - StumbleUpon. If you've been following my blog, you know how I made 60 of these painted frames with song lyrics for our wedding decorations /favors… Well, a lot of wedding guests loved them and took one home, but we had a ton left at the end of the night, which we boxed back up and took home with us… So we now have 30 of them hanging on our big white living room wall!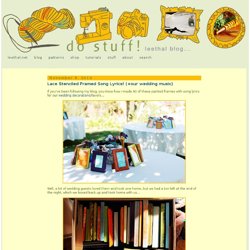 Yay!! There are several duplicate lyrics, some of which I already changed out to engagement photos, but once we get our wedding photos I'll switch out some more lyrics with photos (but just a few, because we love the look of the lyrics!) : Creative little daisy: Have you priced vintage blue canning jars lately?... - StumbleUpon. I bought these probably five years ago at an antique/consignment store.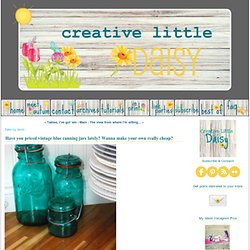 I think I paid about 12 dollars for a set of four. Now you can expect to pay at least that for just one. Last night I was cruising around the internet and happened upon a link to a tutorial using mod podge and food coloring to make your own. Cool! In the original tutorial, she experimented with a few different methods and colors to get the look she was after.
DIY Lessons. Centsational Girl & Blog Archive & DIY: Paint Stick Sunburst Mirror - StumbleUpon. My friends, if there ever was a bandwagon, this carefree DIYer is jumping right on it.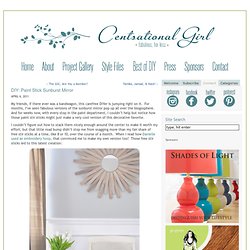 For months, I've seen fabulous versions of the sunburst mirror pop up all over the blogosphere. And for weeks now, with every stop in the paint department, I couldn't help but notice how those paint stir sticks might just make a very cool version of this decorative favorite. Things to Make and Do - StumbleUpon. DIY Life - Projects and Tips.
It was a whopping 3 degrees outside the other day which, if you ask anyone who experienced this brutal winter, is a huge, mega, massive win.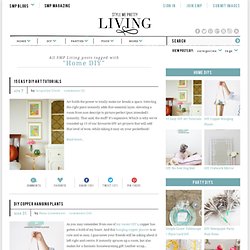 I swear I saw people roaming the streets in shorts! What I'm getting at you ask? Spring is on it's way.
---