Writing Tips
Important Infrequently Used Words To Know | Just English. Paul V.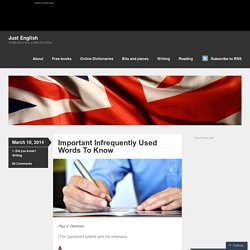 Hartman (The Capitalized syllable gets the emphasis) alacrity a-LACK-ra-tee cheerful willingness and promptnessanathema a-NATH-a-ma a thing or person cursed, banned, or reviledanodyne AN-a-dine not likely to cause offence or disagreement and somewhat dull//anything that sooths or comfortsaphorism AFF-oar-ism a short, witty saying or concise principleapostate ah-POSS-tate (also: apostasy) person who has left the fold or deserted the faith.arrogate ARROW-gate to make an unreasonable claimatavistic at-a-VIS-tic reverting to a primitive typeavuncular a-VUNC-you-lar "like an uncle"; benevolent bathos BATH-ose an anticlimaxbereft ba-REFT to be deprived of something valuable "He was bereft of reason."
Why writing is the best way to get in a good mood | jessicamullen.com. Even if you don't consider yourself a writer, you are.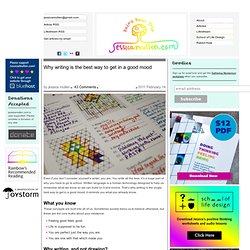 You write all the time; it's a huge part of why you have to go to school. Written language is a human technology designed to help us remember what we know so we can build on it and evolve. 45 ways to avoid using the word 'very' Substitute 'damn' every time you're inclined to write 'very;' your editor will delete it and the writing will be just as it should be.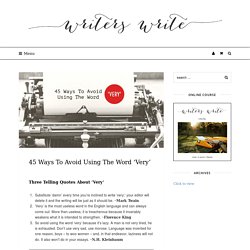 ~Mark Twain'Very' is the most useless word in the English language and can always come out. More than useless, it is treacherous because it invariably weakens what it is intended to strengthen. ~Florence KingSo avoid using the word 'very' because it's lazy. A man is not very tired, he is exhausted. Killer opening lines for fiction writersWrite To Sell Your Book. By Diane O'Connell When you first crack open a new novel, there's so much riding on that first sentence.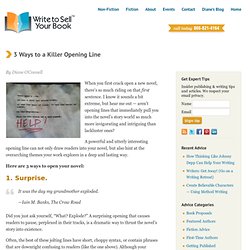 I know it sounds a bit extreme, but hear me out — aren't opening lines that immediately pull you into the novel's story world so much more invigorating and intriguing than lackluster ones? Quotes from real life criminal psychopaths - Psychopaths in fact and fiction - Quotes, True Crime, Fictional Psychopaths, Videos, Movies plus more. Tip of My Tongue - Chirag Mehta : chir.ag. Write & Get Paid. Get Paid $100 Listverse was built on the efforts of readers just like you.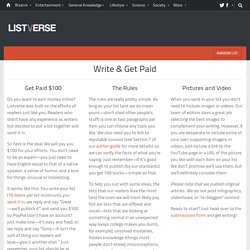 Readers who didn't have any experience as writers but decided to put a list together and send it in. So here is the deal: we will pay you $100 for your efforts. You don't need to be an expert—you just need to have great English, a sense of humor, and a love for things unusual or interesting. Words related to "injured, wounded"
How do I write? Freelance and Creative Writing Sites. Words and Grammar. Characters. Lists of Tips and Exercises. Writer's Block Cures.
---