DIY
Most favorited all-time | craftgawker - StumbleUpon. Garage Sale Frame = My favorite piece of ART ! I love to wake up on a lovely Fall morning…before everyone else is awake.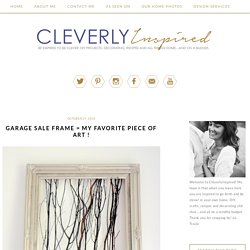 I sneak downstairs–make some coffee, grab a granola bar and the paper and hit the streets—looking for garage sales. I LOVE it! I LOVE to find something for nothing! Vintage book travel-tech organizer. As you may have figured out from my My Life Scoop posts, I'm a bit of a nut for tech accessories, especially pocket-sized ones.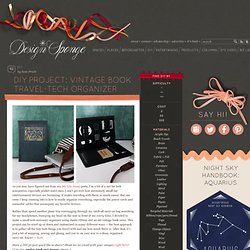 I can't get over how awesomely small our entertainment devices are becoming; it makes traveling with them so much easier. But one issue I keep running into is how to neatly organize everything, especially the power cords and connector cables that accompany my favorite devices. Diy wednesdays: mini mosaic tray. During these chilly winter months, we always like to have a hot beverage close at hand. whether we're eating at the dining room table, or responding to emails from the couch, or even reading in bed, having a little heat-proof tray we can bring from room to room is a big help. this project is also a great way to try your hand at creating a very basic mosaic. it's a fun process that requires very few tools and materials to achieve a beautiful and functional result. click here for the full instructions or just click "read more" below. have fun!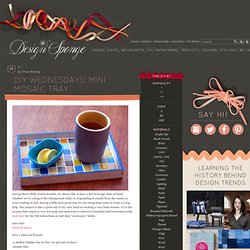 Derek & lauren here's what you'll need: Gifts to Make for Your Man - StumbleUpon. To make all of these Instructables, download this collection of How To's as an ebook.
Download » Gifts to Make For Your Man gives you full step-by-step instructions for 40 cool gifts you can make, including everything from wallets to belts to cookies. Most favorited all-time | craftgawker - StumbleUpon.
Diy best of: handmade gifts. Grace's shopping-free gift guide really resonated with me, and I felt a surge of excitement at the prospect of actually following through on making all my gifts this year.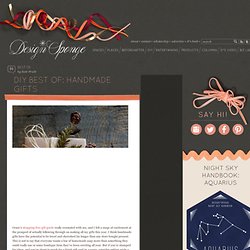 I think handmade gifts have the potential to be loved and cherished far longer than any store-bought present. This is not to say that everyone wants a bar of homemade soap more than something they could really use or some boutique item they've been coveting all year. I feel melty. | Light&Spoon - StumbleUpon. EDIT 11/5/2012: We are no longer selling custom crayon pieces in our Etsy shop.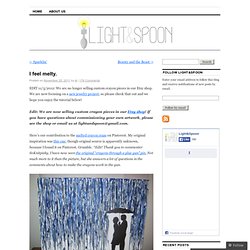 We are now focusing on a new jewelry project, so please check that out and we hope you enjoy the tutorial below! Edit: We are now selling custom crayon pieces in our Etsy shop! If you have questions about commissioning your own artwork, please see the shop or email us at lightandspoon@gmail.com.
Do soon
DIY: framed jewelry displays & Mr. Kate. I'm sure you will all be surprised to hear that i have a lot of jewelry… i know, shocking!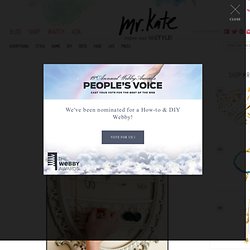 So when you have as much as i do, it's hard to organize it! But these ideas that i scrounged from the web are great DIY jewelry organization options all using one of my favorite things: picture frames! – also, check out my own DIY Jewelry Tree here! Framed Lace Jewelry Display What You Need: Pinterest / Home.
---