Beauty & fitness
10 fitness myths
Things That Damage Skin - Bad Skin Habits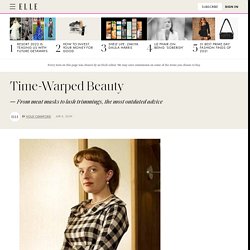 Weird Beauty Facts and Myths - True Beauty Myths
Fight acne with a time-tested poultice (an herb paste wrapped in cotton cloth). Josie Feria, Director of Spa Operations at Lapis spa, suggests grinding a mixture of herbs, such as dandelion and yellow dock, and slowly adding warm water to achieve a paste consistency. Once blended, put the paste into a clean piece of cotton fabric, secure, and let sit on affected area until the paste has dried.
Stay Well Secrets: Inside Tips From Gynecologists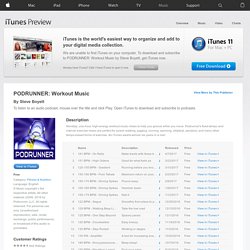 Description Nonstop, one-hour, high-energy workout music mixes to help you groove while you move.
Okay, so we're only three weeks in to this whole thing and I'm already showing you a tame look after I totally promised some of you that I'd do a newsprint nail tutorial this week. Newsprint we can do next week, but for right now I wanted/needed a manicure by a professional. As I told you in the first "Get Yo' Nails Did", it's important to include real manicures in your nail routine if you're not comfortable cutting your cuticles and getting into the real work at home.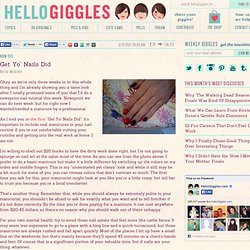 www.alignlife.com/articles/medicalresearch/Back_Pain_Sitting_Straight.html
The following is a "healthy food hot list" consisting of the 29 food that will give you the biggest nutritional bang for you caloric buck, as well as decrease your risk for deadly illnesses like cancer, diabetes and heart disease. Along with each description is a suggestion as to how to incorporate these power-foods into your diet. Fruits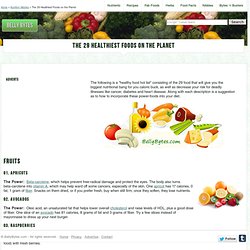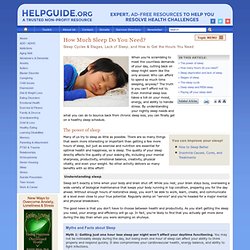 The power of sleep Many of us try to sleep as little as possible—or feel like we have should. There are so many things that seem more interesting or important than getting a few more hours of sleep, but just as exercise and nutrition are essential for optimal health and happiness, so is sleep.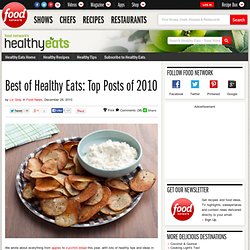 See which posts were most popular in 2010. We wrote about everything from apples to zucchini bread this year, with lots of healthy tips and ideas in between. Here are your favorite posts of the year. #1: 50 Slimmed Down Comfort Foods From macaroni and cheese to oven-fried chicken, you couldn't get enough of these healthier comfort food favorites. # 2: 14 Foods Experts Won't Eat We polled food and nutrition experts (including guru Marion Nestle) to find out which foods they steer clear of.
post written by: Marc Email I've been working out at least 4 days a week since I was a freshman in high school. I'm now 26, so I feel like I have a solid understanding of how to stay consistently motivated and dedicated to an exercise regimen. I've read numerous articles with widely varying tips on how to accomplish this.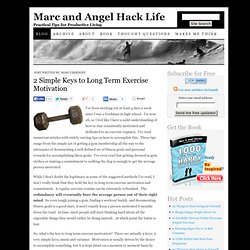 2 Simple Keys to Long Term Exercise Motivation
Updated on May 18, 2011, 5:36 pm ET Besides surgery and Botox, there's got to be something we're missing. Secrets that celebrities use to keep themselves award-show ready, knowledge that we'd all love to get our hands on! I mean, how does Eva Mendes look so fabulous all the time? We did some research and found that occasionally someone lets a valuable piece of beauty advice out of the bag. Here's what we dug up.
8 Beauty Secrets Stars Don't Want You to Know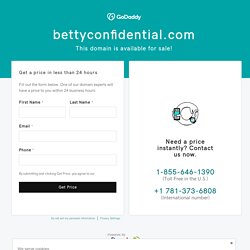 Nothing is more frustrating than not being able to sleep. Tossing and turning. Your mind is racing, going over everything that happened today. Night noises keep you awake. What can you do?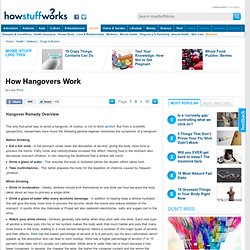 ­The only fool-proof way to avoid a hangover, of course, is not to drink alcohol .
Dogs just love being underfoot while their owners are cooking. While this can be an admirable trait of man's best friend, it can also be dangerous when boiling water or hot cooking oil is being used in the kitchen. A dog may experience first-, second-, or third-degree burns that are caused by fire, heat, boiling liquids, chemicals, and electricity .
How to Give First Aid to Your Dog: Tips and Guidelines"
If you're a professional who likes to be intellectually stimulated and you enjoy keeping up with the latest news and breaking trends, the internet provides you with an endless choice of carefully curated sites to visit.
A great tip is an awesome thing. Whether it's an undiscovered restaurant, a sleeper stock, or a Sure Thing in the late double at Pimlico, savvy inside info imbues a man with confidence. Control.