IPad Dev
How to Learn iPhone Programming
Online Tutorials Apple has published a new App Development Tutorial to teach you how to write apps for the iPhone. There are other sites around the net with dev tutorials; one of my favorites is Ray Wenderlich's iOS Tutorials .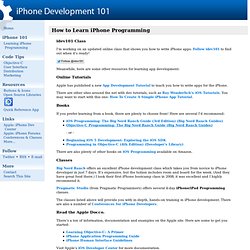 How-to articles for iPhone development and Objective-C
BatteryTech | Battery Powered Games LLC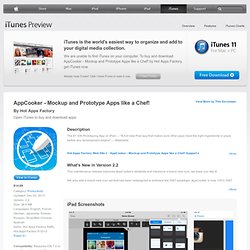 Description THE (TRUE) STORY OF APPCOOKER — At the crossroads between creation and technology, AppCooker makes a synthesis between those two worlds often kept apart, thus delivering a complete, mobile and accessible solution. The goal: to be able to test an idea for a mobile application in all of its aspects — concept, graphic design, interactive mockup, business plan —, quickly and without coding. AppCooker celebrated its first anniversary on May 31, 2012. - An app born out of a void - A few years ago, the founders of AppCooker decided to create an iPhone game.
App Cooker - Design, Mockup, Prototype, Draft or Wireframe App Interfaces for iPad on the iTunes App Store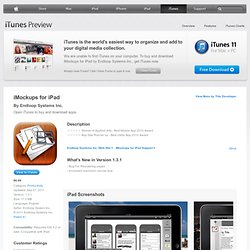 iMockups for iPad for iPad on the iTunes App Store
Description ☆☆☆☆☆ Winner of Applied Arts - Best Mobile App 2010 Award ☆☆☆☆☆ App Star Runner up - Best Utility App 2010 Award iMockups for iPad is the PREMIERE mobile wireframing and mockup app for your web, iPhone and iPad projects. "If you weren't planning to buy an iPad, this app alone could very well change your mind." - Chris Pirillo, Tech Expert for CNN.com "iMockups could actually play an integral role in how you tackle new projects" - Computer Arts Magazine "iMockups is a must have tool for web designers, iPhone developers and really anyone looking to design a UI starting with a good wireframe mock up." - iPadInCanada.ca
Blueprint for iPad on the iTunes App Store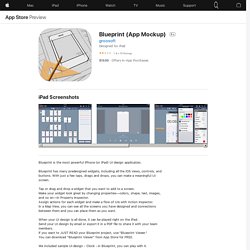 Description Blueprint is the most powerful iPhone (or iPad) UI design application. Blueprint has many predesigned widgets, including all the iOS views, controls, and buttons. With just a few taps, drags and drops, you can make a meaningful UI screen.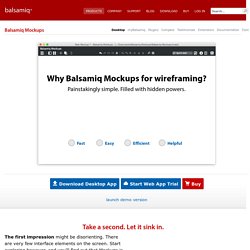 Why Balsamiq Mockups for wireframing? Using Mockups feels like drawing, but because it's digital, you can tweak and rearrange easily.
How to Submit Your App to Apple: From No Account to App Store, Part 1
If you're new here, you may want to subscribe to my RSS feed or follow me on Twitter . Thanks for visiting! This is a blog post by iOS Tutorial Team member Gustavo Ambrozio , a software engineer with over 20 years experience, including over three years of iOS experience. Like most well-designed things, the magic of an iPad app comes from a union of usefulness, usability and meaning.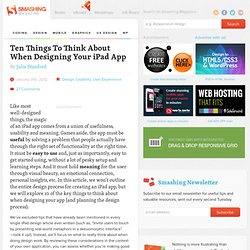 iPad and iPhone Application Development (HD) - Download free content from Stanford on iTunes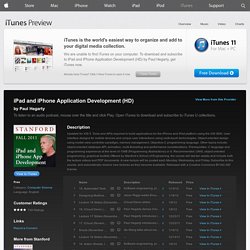 Description Updated for iOS 5. Tools and APIs required to build applications for the iPhone and iPad platform using the iOS SDK. User interface designs for mobile devices and unique user interactions using multi-touch technologies.