IPad Dev
How to Learn iPhone Programming
idev101 Class I'm working on an updated online class that shows you how to write iPhone apps. Follow idev101 to find out when it's ready!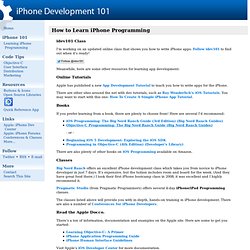 BatteryTech | Battery Powered Games LLC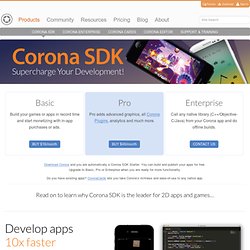 BasicBuild your games or apps in record time and start monetizing with in-app purchases or ads.BUY $16/monthProPro adds advanced graphics, all Corona Plugins, analytics and much more.BUY $49/monthEnterpriseCall any native library (C++/Objective-C/Java) from your Corona app and do offline builds.LEARN MORE Download Corona and you are automatically a Corona SDK Starter. You can build and publish your apps for free.Upgrade to Basic, Pro or Enterprise when you are ready for more functionality. Read on to learn why Corona SDK is the leader for 2D apps and games…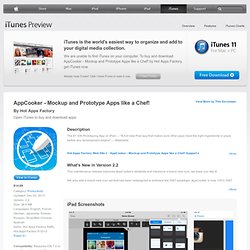 Description Mockup + wireframe iPhone & iPad Apps. Share clickable prototypes through AppTaster, the free companion. - Full-functioned mockup editor with all the iOS 7 UI widgets - Overall screen view with connections, export PDF Map.- Portrait & landscape editions- Add notes to any of the screens.- Link the screens with various type of inputs and transitions- Bitmap drawing, vector shapes and text tool - Use solid colours, gradients, strokes and shadows - Import images through Dropbox and Box - Export backups, playable mockups (AppTaster), Jpeg, PNG and PDF - Dropbox + Box integration- App icon editor- App idea planner - Store info section - App pricing tool- Notepad - THE (TRUE) STORY OF APPCOOKER -At the crossroads between creation and technology, AppCooker makes a synthesis between those two worlds often kept apart, thus delivering a complete, mobile and accessible solution.
App Cooker - Design, Mockup, Prototype, Draft or Wireframe App Interfaces for iPad on the iTunes App Store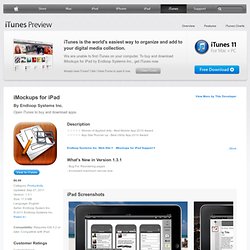 iMockups for iPad for iPad on the iTunes App Store
Description ☆☆☆☆☆ Winner of Applied Arts - Best Mobile App 2010 Award☆☆☆☆☆ App Star Runner up - Best Utility App 2010 Award iMockups for iPad is the PREMIERE mobile wireframing and mockup app for your web, iPhone and iPad projects. "If you weren't planning to buy an iPad, this app alone could very well change your mind." - Chris Pirillo, Tech Expert for CNN.com "iMockups could actually play an integral role in how you tackle new projects" - Computer Arts Magazine "iMockups is a must have tool for web designers, iPhone developers and really anyone looking to design a UI starting with a good wireframe mock up." - iPadInCanada.ca
Blueprint for iPad on the iTunes App Store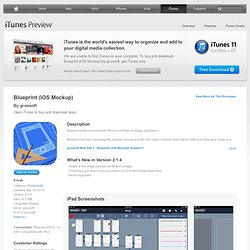 Description *** iOS 7 Widgets Added! Blueprint is the most powerful iPhone (or iPad) UI design application.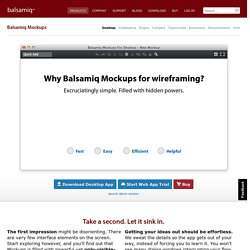 Take a second. Let it sink in. The first impression might be disorienting. There are very few interface elements on the screen. Start exploring however, and you'll find out that Mockups is filled with powerful yet only-visible-when-you-need-them features.
How to Submit Your App to Apple: From No Account to App Store, Part 1
This post is also available in: Japanese If you're new here, you may want to subscribe to my RSS feed or follow me on Twitter. Thanks for visiting! iPad and iPhone Application Development (HD) - Download free content from Stanford on iTunes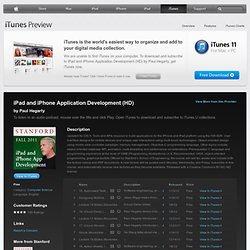 Description Updated for iOS 5. Tools and APIs required to build applications for the iPhone and iPad platform using the iOS SDK.