Blog Pingers
Here are some of the ping-ing website that helps bloggers to inform the search engine that your blog has been updated.

Be sure to do it regularly !! Dec 3
PingMyBlog.com
Autopinger - Automates Ping Blog and Podcast for Free
A premium subscription allows you to store your URLs in your account. Your URLs will be automatically pinged daily (level of subscriptions apply). A premium account not only saves you the hassle of having to ping each of your URLs manually, it also ensures that pinging is performed frequently and in a timely manner. Premium accounts are pinged daily and to an exclusive list of ping resources, ensuring maximum exposure to search engines. You can also benefit from the many tools and plugins that we offer. Sign up today to our basic package price of $2.99 / month and enjoy the best pinging site on the net.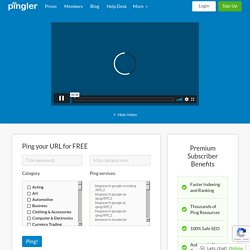 Blog and ping | Pingoat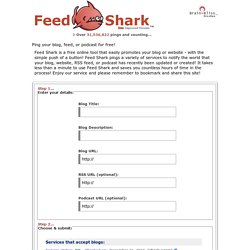 Over 23,092,989 pings and counting... Ping your blog, feed, or podcast for free! Feed Shark is a free online tool that easily promotes your blog or website - with the simple push of a button! Feed Shark pings a variety of services to notify the world that your blog, website, RSS feed, or podcast has recently been updated or created! It takes less than a minute to use Feed Shark and saves you countless hours of time in the process! Enjoy our service and have fun!