מיינקרפט
The (Minecraft) world has ended, and there is nothing left. Well, ALMOST nothing; Code Wizards meddled in the balance of nature, and released hordes of monsters from other dimensions on an unsuspecting world. Not satisfied with just destroying human life, the monsters rampaged across the world eating everything they could find, and leaving nothing in their wake but empty void. Now, it is up to you to rebuild an entire world from nearly nothing. Agrarian Skies is a popular modpack made by Jadedcat, which takes the classic idea of a skyblock game, and cranks it up many, many notches. You start with a quest book, which guides you on your journey.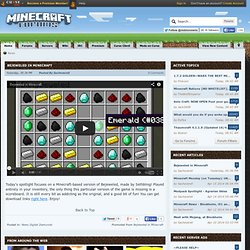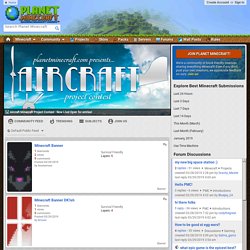 MynProfile - Minecraft Social Network! (56) Started about 12 hours ago TheMystic said 2 minutes ago Use this social networking site? I would surely love to be involved in such a pleasant sounding fell...
Minecraft Wiki/he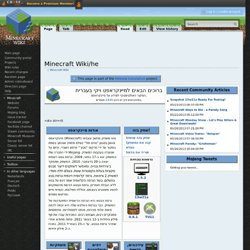 מיינקראפט (Minecraft) הוא משחק מחשב עצמאי בסגנון "ארגז חול" (עולם פתוח) שנכתב בשפת Java במקור על ידי מרקוס "נוטץ'" פרסון השבדי, וכיום על ידי החברה שלו Mojang שנוצרה בעקבות המשחק. המשחק יצא ב-17 במאי, 2009, וגרסת בטא רשמית יצאה ב-20 בדצמבר, 2010. המשחק מתמקד ביצירתיות ובנייה, ומאפשר לשחקנים ליצור מבנים מקוביות בעלות טקסטורות שונות, בעולם תלת-ממדי.
Note AdventureCraft is compatible with 1.3.2 via its installer but it only has features from beta 1.7.3 and back. AdventureCraft, is a stand alone Minecraft mod designed to let players create adventure maps for other players. It allows you have full control of how mobs spawn based on the player triggering blocks with a custom trigger system.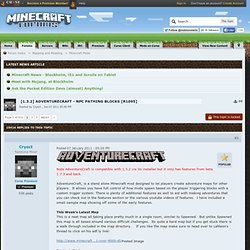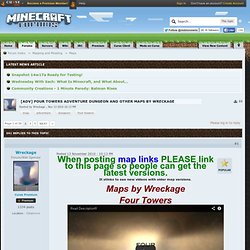 [Adv] Four Towers Adventure Dungeon Map
Welcome to Master of the Arena! This is an action packed fully automated, mob spawning, ground pounding, lava flowing, round counting experience. In order to defeat this map you will need to keep moving and of course kill gobs of mobs as the doors open and close with a full array of monsters. To become the Master of the Arena you must survive all 9 rounds without dying.
Minecraft FiniteLiquid v2
[Adv] Four Towers Adventure Dungeon Map
For professional reasons, I won't be able to work on my mods anymore. I was hoping that after v1.0, Mojang would simplify the update process for modders or at least stop updating the game every two weeks, but it's not the case. Here are the sources for those who would like to update themselves:Kaevator SuperSlopes Sources 1.2.3Kaevator Timber Frames Sources 1.2.3Kaevator Wallpaper Sources 1.2.3Kaevator Hedges & Shears Sources Beta 1.7.3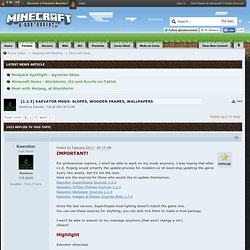 Minecraft Wiki/he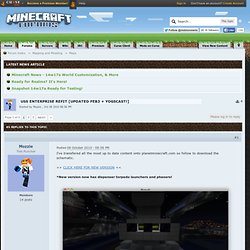 58oP0WJn3BM Download I originally built this ship on a SMP server and finished it about a month ago. I've been sitting on it for awhile and I've finally put it all together as a playable single player level. This is my second attempt after a server map reset so it's the "NCC-1701-A" registration. (Also The Undiscovered Country was be best movie)
USS Enterprise Refit [UPDATED FEB3 + YOGSCAST!]
The Redmurk Mystery Current version seems to work fine with Minecraft 1.1 from what I can see. If you spot anything; please let me know. Setting: You have arrived at the remote port town of Redmurk, surprisingly there appears to be no one around and further exploration reveals the town to be empty. A look around the nearby homes shows signs of struggle yet there are no signs of battle or disaster.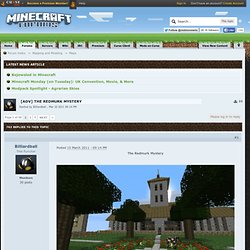 [Adv] The Redmurk Mystery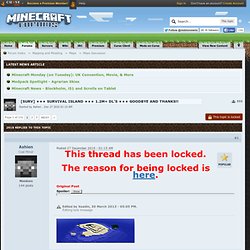 Crismajor said: How did you create the map? i assume he used a program like mcEDIT (iff so props brah, that sucker is hard to use)
Minecraft FiniteLiquid v2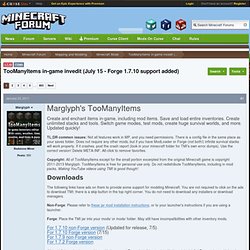 Marglyph's TooManyItems Create and enchant items in-game, including mod items. Save and load entire inventories. Create unlimited stacks and tools. Switch game modes, test mods, create huge survival worlds, and more. Updated quickly!
Minecraft is a game about breaking and placing blocks. At first, people built structures to protect against nocturnal monsters, but as the game grew players worked together to create wonderful, imaginative things. It can also be about adventuring with friends or watching the sun rise over a blocky ocean. It's pretty. Brave players battle terrible things in The Nether, which is more scary than pretty.
USS Enterprise Refit [UPDATED FEB3 + YOGSCAST!]