system, design, structure
Get flash to fully experience Pearltrees
processing – tutorial einstieg in die programmierung mit processing Aktuelle Beiträge Processing – Über dieses Weblog « zurück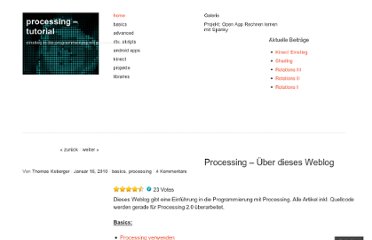 A diagram of the electromagnetic spectrum, showing various properties across the range of frequencies and wavelengths The electromagnetic spectrum is the range of all possible frequencies of electromagnetic radiation . [ 1 ] The "electromagnetic spectrum" of an object has a different meaning, and is instead the characteristic distribution of electromagnetic radiation emitted or absorbed by that particular object. The electromagnetic spectrum extends from below the low frequencies used for modern radio communication to gamma radiation at the short- wavelength (high-frequency) end, thereby covering wavelengths from thousands of kilometers down to a fraction of the size of an atom . The limit for long wavelengths is the size of the universe itself, while it is thought that the short wavelength limit is in the vicinity of the Planck length , [ 2 ] although in principle the spectrum is infinite and continuous .
Mac OS, FaceTime, terminal
The Technology Acceptance Model, version 1. ( Davis 1989 ) The Technology Acceptance Model (TAM) is an information systems theory that models how users come to accept and use a technology. The model suggests that when users are presented with a new technology, a number of factors influence their decision about how and when they will use it, notably:
computer vision, algorithms, depth data
The Hang ( German pronunciation: [haŋ] , [ 1 ] plural form: Hanghang) is a musical instrument in the idiophone class created by Felix Rohner and Sabina Schärer in Bern , Switzerland . The name of their company is PANArt Hangbau AG. [ 2 ] The Hang is sometimes referred to as a hang drum , but the inventors consider this a misnomer and strongly discourage its use. [ 3 ] The instrument is constructed from two half-shells of deep drawn , nitrided steel sheet [ 4 ] glued together at the rim leaving the inside hollow and creating a distinct 'UFO shape'. The top ("Ding") side has a center 'note' hammered into it and seven or eight 'tone fields' hammered around the center. The bottom ("Gu") is a plain surface that has a rolled hole in the center with a tuned note that can be created when the rim is struck.