Microstock, microjob, flat hierarchy
Lizenzfreie Stockfotos, Illustrationen und kunstvolle Vektorkrafiken | Depositphotos®
Show off and make money from your photographs | jpg10
Click on a logo below to visit the microstock sites [stats updated 08/03/2012] Total Earnings: $24,793 Most people who are considering whether or not to upload to microstock sites are curious how much money can be made by doing so. (There are other reasons, too, but this is a biggie).
How much can you make with microstock sites? | Microstock Tips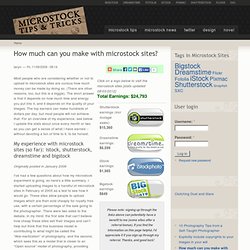 Review on microjobs services, social network service startups by Ivan Golod on Prezi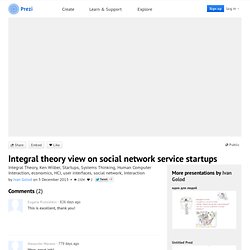 Social Network ServicesConsumer-to-consumerPCSmartphoneiPad may be?new interactions...social network servicesintentionjoy of profitmotivationideadesireconscious synergynew complexitycommunity meme+Bodynew user interfaceshttp://ahead.com/#view/lilaspaces/main/welcome?scene=WHAT IS AHEAD*http://www.pearltrees.comhttps://www.flinc.org/http://www.tamyca.de/http://www.couchsurfing.org/http://www.carpooling.co.uk/http://www.ebay.com/peer-to-peer(as math and computer science model)real peoplereal objects+andhardwarevaluesunspoken rulescultural identitysystemelementgroup semiosphereone level cut+holographic levels"fractal"holonsEverybody knows what the social network is.
Collaborative sensemaking during admin permission granting in wikipedia
Find Designers
work & earn or offer a micro job
The video chat to sell your expertise to anyone - Vinswer
Vinswer for publishers provides you with a way to scale your business and increase your network value and revenue. We furnish to you a new area of your website where you can offer a marketplace of experts complete integrated inside your site. Your own paid video chat within 60 seconds Vinswer is a breeze to use.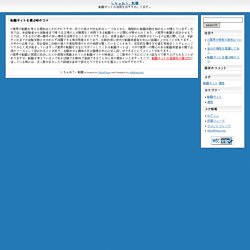 micro-job, microjob, geo-local micro-jobs
Microstock photography
Microstock photography[citation needed], also known as micropayment photography, is a part of the stock photography industry. What defines a company as a microstock photography company is that they (1) source their images almost exclusively via the Internet, (2) do so from a wider range of photographers than the traditional stock agencies (including a willingness to accept images from "amateurs" and hobbyists), and (3) sell their images at a very low rate (from US$0.20 to $10 in the US) for a royalty-free (RF) image. A number of microstock sites also sell vector art, and some sell Flash animations and video as well as images.[1] History[edit] The pioneer of microstock photography was Bruce Livingstone, who created iStockphoto, originally a free stock photo site that quickly became an industry phenomenon.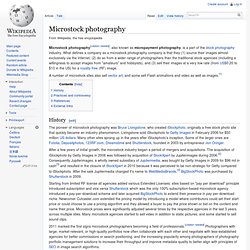 Dreamstime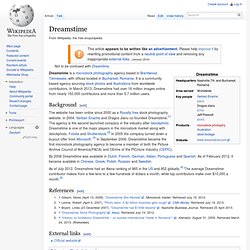 Dreamstime is a microstock photography agency based in Brentwood, Tennessee, with offices located in Bucharest, Romania. It is a community based agency sourcing stock photos and illustrations from worldwide contributors. In March 2013, Dreamstime had over 16 million images online from nearly 150,000 contributors and more than 5.7 million users. Background[edit]
Fiverr - Hire people to do things for $5
aeveland profile on IconsPedia
Gígalo | Die Welt für einen Preis
Holtzbrinck Ventures investiert in Gigalocal – Serie-A-Finanzierungsrunde bei der Microjobbing-App von Gigalo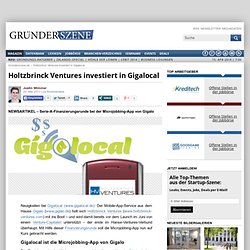 Neuigkeiten bei Gigalocal (www.gigalocal.de): Der Mobile-App-Service aus dem Hause Gigalo (www.gigalo.de) holt sich Holtzbrinck Ventures (www.holtzbrinck-ventures.com) mit ins Boot – und wird damit bereits vor dem Launch im Juni von einem Venture-Capitalist unterstützt – der erste im Hanse-Ventures-Verbund überhaupt. Mit Hilfe dieser Finanzierungsrunde soll die Microjobbing-App nun auf Kurs gebracht werden. Gigalocal ist die Microjobbing-App von Gigalo Die Reaktionen in der Webszene waren nicht allzu positiv, als Gigalo Anfang letzten Monats angetreten ist, um den Kampf gegen andere Fiverr-Klone wie Fünfi (www.fuenfi.de), Yoofive (www.yoofive.de), Fiveo (www.fiveo.de), Gigmich (gigmich.de) oder FiverDeal (www.fiverdeal.de) aufzunehmen. Der Vorwurf: Bei Gigalo handele es sich um ein reines Copycat, das mit einem schmal aufgestellten Business-Modell antritt.