Sport
REI - Gear, Equipment and Clothing for a Lifetime of Outdoor Adv
Home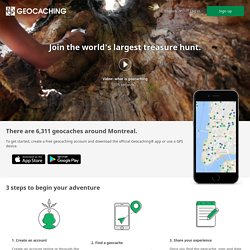 Skip to Navigation Skip to Content Geocaching is the real-world treasure hunt that's happening right now, all around you. There are 2,368,962 active geocaches and over 6 million geocachers worldwide. Learn more about geocaching and how you can join the adventure.
Geocaching - The Official Global GPS Cache Hunt Site
PodCacher
On our geocaching podcast today, we have an extended interview with a very interesting geocacher who has high numbers and big adventures. We also share another tip for drying a wet log, a story of long distance caching in a single day, a cool cache that we received a RAVE about, feedback on finding micros in the woods and much more. Listen To The Show (1:10:05) Show Discussion: PodCacher Forums AND Facebook Fan Page Show Images: Go to the Flickr set Sign up to become a PodCacher Supporting Member and enjoy the Member Appreciation Premium Perk (MAPP) shows as a thank-you!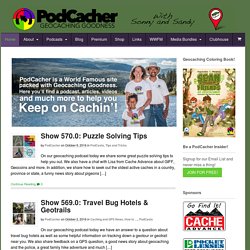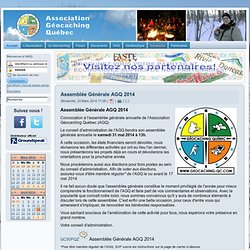 Assemblée Générale AGQ 2014 Convocation à l'assemblée générale annuelle de l'Association Géocaching Québec (AGQ) Le conseil d'administration de l'AGQ tiendra son assemblée générale annuelle le samedi 31 mai 2014 à 13h. À cette occasion, les états financiers seront dévoilés, nous réviserons les différentes activités qui ont eu lieu l'an dernier, nous présenterons les projets déjà en cours et dévoilerons les orientations pour la prochaine année. Nous procéderons aussi aux élections pour trois postes au sein du conseil d'administration.
Association Géocaching Québec - Accueil
Cacher-Shop - Geocaching Shop, Travelbugs, Geocachebehälter, Geocache-Aufkleber, Fenix Taschenlampe, UV Lampen, GPS
Backpacker Recipe Center
Cycle Chic™ - The Original from Copenhagen.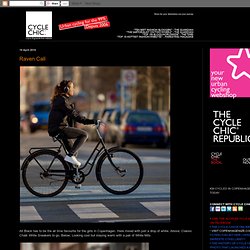 "I'm from Århus. I cycle every day. Århus is definitely a bicycle-friendly city." "We're in a "bike-street".
Bike Forums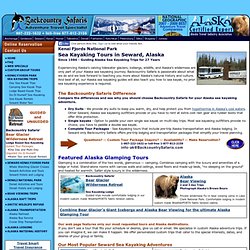 Kenai Fjords National Park Sea Kayaking Tours in Seward, Alaska Since 1986 - Guiding Alaska Sea Kayaking Trips for 27 Years Experiencing Alaska's calving tidewater glaciers, icebergs, wildlife, and Alaska's wilderness are only part of your Alaska sea kayaking journey. Backcountry Safaris is passionate about what we do and we look forward to teaching you more about Alaska's natural history and culture.
Alaska Sea Kayaking Small Group Tours | Seward Alaska Sea kayak 11/20/11
SPORTS : Ski, Snowboard, Nordic, Running, Trail, Kid, Man and Women's sport clothing