Musica scaricabile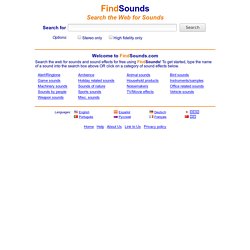 Welcome to FindSounds.com, a free site where you can search the Web for sound effects. Click here to see the types of sounds you can find. On August 1, 2012, FindSounds.com celebrated its 12-year anniversary as the leading Web search engine for sound effects. Using a smartphone or other handheld device?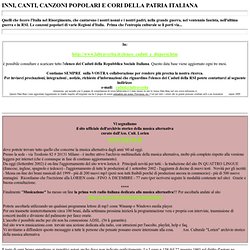 Quelli che fecero l'Italia nel Risorgimento, che cantarono i nostri nonni e i nostri padri, nella grande guerra, nel ventennio fascista, nell'ultima guerra e in RSI. Le canzoni popolari di varie Regioni d'Italia. Prima che l'entropia culturale se li porti via... Il testo di ogni brano appartiene ai rispettivi autori anche dove non indicato esplicitamente.
INNI, CANTI, CANZONI POPOLARI E CORI DELLA PATRIA ITALIANA
MIDI Atlas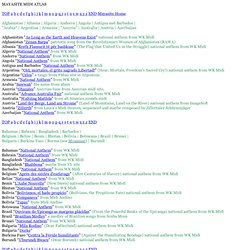 TOP a b c d e f g h i j k l m n o p q r s t u v w x y z END Mayasite Home Afghanistan | Albania | Algeria | Andorra | Angola | Antigua and Barbados | "Arabia" | Argentina | Armenia | "Assyria" | Australia | Austria | Azerbaijan Afghanistan "As Long as the Earth and Heavens Exist" national anthem from WK Midi
Biblioteca musicale - home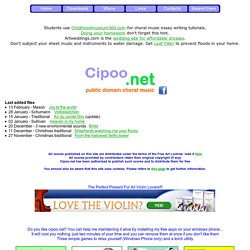 These Sites have contributed to cipoo.net: please, visit them! Disclaimer To the best of our knowledge, all the files published on this site are only relevant to public domain music; otherwise we have obtained proper authorization from the owner to publish them. For MIDI and MP3 files we want to point out that they are not intended to (and neither can) replace high quality recordings.
Welcome to cipoo.net
Musica