Musica scaricabile
FindSounds - Search the Web for Sounds. Sound Types. INNI, CANTI, CANZONI POPOLARI E CORI DELLA PATRIA ITALIANA. Quelli che fecero l'Italia nel Risorgimento, che cantarono i nostri nonni e i nostri padri, nella grande guerra, nel ventennio fascista, nell'ultima guerra e in RSI.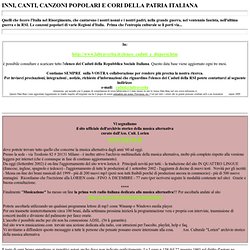 Le canzoni popolari di varie Regioni d'Italia. Prima che l'entropia culturale se li porti via... Il testo di ogni brano appartiene ai rispettivi autori anche dove non indicato esplicitamente. MIDI Atlas. TOP a b c d e f g h i j k l m n o p q r s t u v w x y z END Mayasite Home Afghanistan | Albania | Algeria | Andorra | Angola | Antigua and Barbados | "Arabia" | Argentina | Armenia | "Assyria" | Australia | Austria | Azerbaijan Afghanistan "As Long as the Earth and Heavens Exist" national anthem from WK Midi.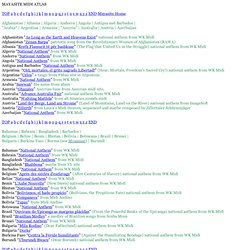 Biblioteca musicale - home. Welcome to cipoo.net. Royalty Free Music. Main Page | Musopen. Musica.
---