Web
Hadopi 1, puis 2, ont fait leur petit bonhomme de chemin et sont aujourd'hui actifs. Si vous téléchargez illégalement, vous êtes donc en mesure de recevoir un courrier de la Haute Autorité pour la Diffusion des Oeuvres et la Protection des Droits sur Internet, vous signifiant que ça serait bien d'arrêter dans le meilleur des cas, voir la connexion coupée et/ou que vous allez recevoir une amende salée dans le pire. Mais le temps du politique n'est pas le temps de la technique. Et si la décision politique est officielle, les faiblesses techniques de Hadopi existent et sont donc évidemment connues des "pirates" pour contourner la loi... Petit récapitulatif des solutions qui font qu'Hadopi n'est pas encore aujourd'hui tout à fait au point. Sinon, pour télécharger légalement, des solutions existent !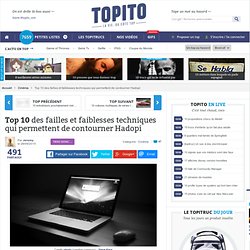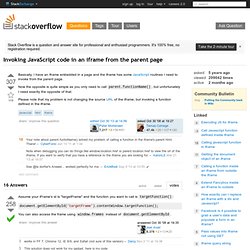 Quirksmode had a post on this. Since the page is now broken, and only accessible via archive.org, I reproduced it here: IFrames On this page I give a short overview of accessing iframes from the page they're on. Not surprisingly, there are some browser considerations. An iframe is an inline frame, a frame that, while containing a completely separate page with its own URL, is nonetheless placed inside another HTML page.
html - Invoking javascript in iframe from parent page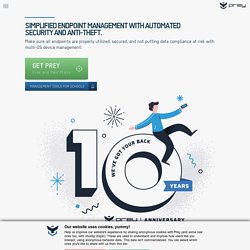 Silent but deadly Basically you install a tiny agent in your PC or phone, which silently waits for a remote signal to wake up and work its magic. This signal is sent either from the Internet or through an SMS message, and allows you to gather information regarding the device's location, hardware and network status, and optionally trigger specific actions on it. Next Recover what is rightfully yours You can quickly find out where your computer is located, who's using it, and what they're doing on it thanks to Prey's powerful reports system.
Last week the world learned that the hacks at Target hit more customers than originally thought – somewhere in the 100 million vicinity – and that Neiman Marcus also saw customer credit card information spirited away by data thieves. They're not the first big-name outfits to suffer a security setback, could they be the last? No one can ever say never, of course. But it's possible that new tools that leverage machine learning predictive analytics could put a serious dent in the black hats' handiwork, while also improving IT's hand at application performance management. A big problem in both the APM and security space today is that there's just a ton of data coming at IT pros dealing with those issues, much of it just describing the normal state of affairs, and no one's got time to spend reviewing that.