Diabetes
T&J Design Home Page
1HappyDiabetic
Addicted to Insulin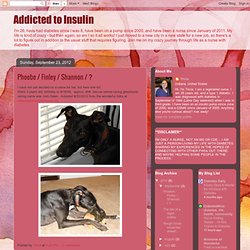 A while back, my best friend was interviewing for a nanny position. It just so happens that one of the 2 daughters had diabetes and was on an insulin pump and CGM. I started writing down all sorts of random thoughts and tips for my friend to helpeducate her about what all she'd need to know in order to care for this girl. The thing I discovered is that most, if not all of the diabetes guides in existence are geared towards full time caregivers. My friend wouldn't need to know every single detail, every scenario, etc. and these guides were just too overwhelming for someone like grandparents, babysitters, nannies, teachers, etc. who only care for a child with diabetes occasionally, just during the days, etc. I decided that a guide specifically geared to this population was something that I felt could help loads of people.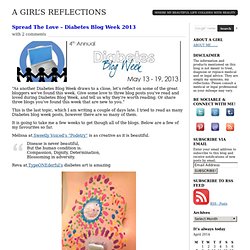 A Girl's Reflections
Spread The Love – Diabetes Blog Week 2013 "As another Diabetes Blog Week draws to a close, let's reflect on some of the great bloggers we've found this week. Give some love to three blog posts you've read and loved during Diabetes Blog Week, and tell us why they're worth reading. Or share three blogs you've found this week that are new to you."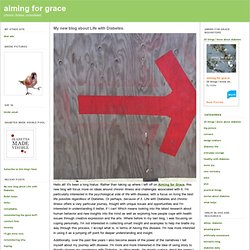 This feels a bit like an epiphany, like something very big, perhaps even life altering. I know the roots of it have come from years of consideration and questioning, but last week it all came together in one very clear jolt. Diabetes is, simply put, uncomfortable.
aiming for grace
Bernard Farrell —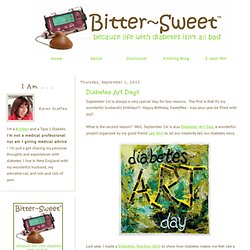 Bitter~Sweet: Diabetes Art Day!!
September 1st is always a very special day, for two reasons. The first is that it's my wonderful husband's birthday!!! Happy Birthday, SweetPea - may your year be filled with joy!! What is the second reason? Well, September 1st is also Diabetes Art Day, a wonderful project organized by my good friend Lee Ann to let our creativity tell our diabetes story. Last year, I made a Diabetes Voodoo Doll to show how diabetes makes me feel like a human pin-cushion.
bad decision maker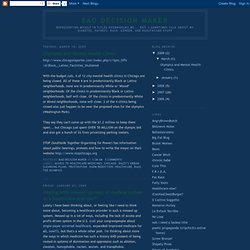 Lately I have been thinking about, or feeling like I need to think more about, becoming a healthcare provider in such a messed up system. Messed up in a lot of ways, including the lack of access and profit-driven system in the U.S. (call your congresspeople about single-payer universal healthcare, expanded/improved medicare for all, now!!), but that's a whole other post. I'm thinking about more the ways in which medicine has such a history AND present of being rooted in systems of domination and oppression such as ableism, classism, homophobia, racism, sexism, and transphobia.
Big Blue Test
What are you waiting for? Join the movement by taking the Big Blue Test right now. Each Big Blue Test entry you log between now and November 14th triggers a donation on your behalf to nonprofit groups that are providing life-saving supplies, services and education to people with diabetes in need. Taking the Big Blue Test is easy. 1. Test your blood glucose.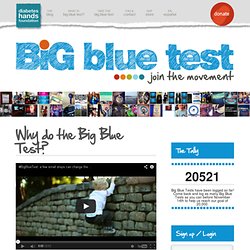 Welcome Welcome to The Butter Compartment, my personal blog about living with type 1 diabetes and other shenanigans. I'm Lee Ann Thill, diabetes advocate, mental health advocate, art therapist, artist, doctoral student, wife, dog mom, and all-around promoter of engaging in creative activities to transform diabetes into something personally meaningful.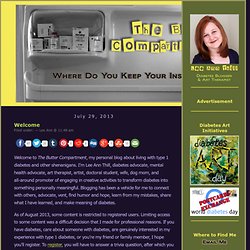 Butter Compartment
Capt Glucose & Meter Boy
D•blog
Life is chock full o' crazy right now, it's the 6th out of 8 weeks in the Med Surg/Mental Health rotation. I'm not going to personally comment on what that is like, but I focus on two main things (exam prep, and surviving each clinical day without getting expelled from the program) & count down the days till the insanity will be over.(if it weren't the Internet, I could tell you a lot more) As for that little thing called diabetes..it's been downgraded to the very last thing on my to do list. I have absolutely ZERO time to deal with low blood sugars, and my bg average is pretty high. Survival dictates getting all your patient care done/charting in the computer/giving medications/ongoing assessments/nursing diagnoses care plans done in 5 hours that you are on the floor (& nobody dying)or you will get a plan for success.
D-Log Cabin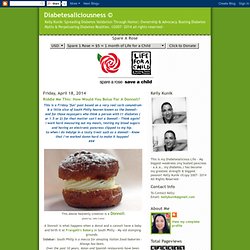 Winner of the D Inspired Bling from the DMamaOwl D Boutique is Emily.Winner of the Extend Nutrition Gift Pack is Stephanie Storm.Congrats ladies and please email me at KellyKunik(At)gmail(dot)com!!#######New Year's Day 2014 started off simply enough. I made a huge pot of my healthy faux cream of broccoli soup. 6 cups of broccoli, 1 medium onion,
Diabetesaliciousness™
Diabetes Art Day 2011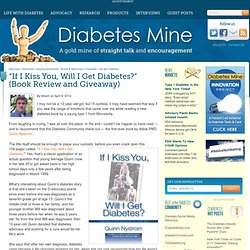 DiabetesMine
"If I Kiss You, Will I Get Diabetes?" (Book Review and Giveaway) By MikeH on April 8, 2014 I may not be a 13-year-old girl, but I'll confess: it may have seemed that way if you saw the range of emotions that came over me while reading a new diabetes book by a young type 1 from Minnesota.
We went to the Calgary Stampede today - if you've never been or heard of it, it's sort of a combination rodeo/agricultural exhibit/carnival/state fair thing that is a huge deal every summer in Calgary. We all wear jeans and cowboy hats to work for a week, all the store windows are painted with cowboy designs and pancake breakfasts are scattered throughout the city. If you'd asked me as a child I would probably have said it was my favorite 'holiday' after christmas! It was a lot of fun, though we just didn't have the energy to stay for the free mini concert at the end of the night - Hedley was playing, darn it! Of course, I had a few diabetes moments.
Diabetic in Calgary
Diabetic_Iz_Me —
Diabetes Cure Blog
Bariatric surgery can eliminate diabetes symptoms LONDON - Weight-loss surgery can help eliminate the symptoms of type 2 diabetes in nearly 80 percent patients, an international study has found. Full article » Anti-diabetic effects of sodium tungstate unraveled WASHINGTON - Uncovering the molecular mechanisms of tungstate activity in diabetes, researchers have now identified the pathways through which sodium tungstate improves pancreatic function and beta cell proliferation. Genetic discovery could pave way for obesity, diabetes treatments
Diabetes Daily
Diabetic Connect
New Guidelines for Monitoring Blood Pressure Having slightly higher blood pressure may now be acceptable. New blood pressure guidelines may change hypertension treatment and medication for some patients.
The Diabetic's Corner Booth
Just about six years ago, I started exploring family history. This was a couple years after finding the Diabetes Online Community, but before I really stepped into that world of wearing diabetes very openly on my sleeve. Back in late 2007 and early 2008, my focus was on my full-time newspaper job and my off-hour, stay-up-all-night hobby of aspiring family historian.
Diabetic Tattoos
Gina Capone - your diabetes bff!
I Am Your Pancreas
Lemonade Life
Mike Lawson Blog
My Diabetic Heart » Blog Archive » A DOC Logo – Diabetes Art Day
Naturally Sweet
Ninjabetic - The B.A.D. Blog
Ninnifur
One Does Not Simply...
*Pieces of My Life*
Six Until Me
Stories of Caleb
T Minus Two
TuDiabetes
Without Envy : A Diabetes Blog