Libros
Biblioteca Digital Universitaria/DGSCA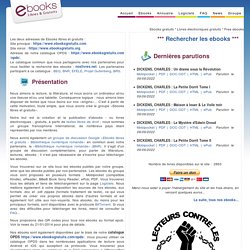 Nouveau pour les lecteurs sur smartphones ou tablettes : Nous vous proposons des QR codes pour tous nos ebooks au format epub. Voir les news pour plus de détails... Les deux adresses de Ebooks libres et gratuits :Site principal : http://www.ebooksgratuits.comSite miroir : http://www.ebooksgratuits.org.Adresse de notre catalogue OPDS : http://www.ebooksgratuits.com/opds/.
Proyecto Biblioteca Digital Argentina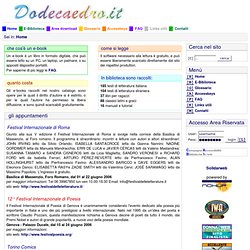 Dodecaedro.it - Biblioteca digitale - Pagina principale
gli appuntamenti Festival Internazionale di Roma Giunto alla sua V edizione il Festival Internazionale di Roma si svolge nella cornice della Basilica di Massenzio, al Foro romano.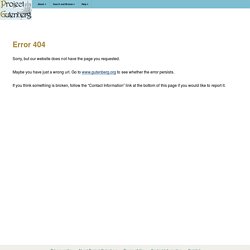 New Kindle Fire Review Before you buy: Read our Webmaster's review of the new Kindle Fire. Some of Our Latest Books Welcome
the best ebooks at the best price: free! Browse through the most popular titles, recommendations, or recent reviews from our visitors. Perhaps you'll find something interesting in the special collections. There are more than 29,000 eBooks available for Kindle, Nook, iPad and most other eReaders, and they're all free!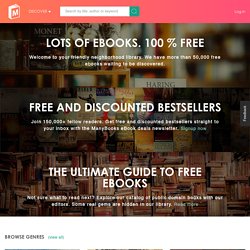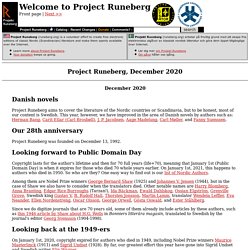 A Summary of 2013 Project Runeberg turned 21 years old on December 13, 2013, the same age that Project Gutenberg (founded in 1971) had when we started in 1992. They are no longer twice our age. We currently hold 1.49 million scanned book pages, which is a 45% increase over last year. Since the end of 2011, two years ago, our collections have doubled. 1.34 million pages (90 percent) are OCRed, but only 0.27 million (18 percent) are proofread. Proofreading progressed with only 20,000 pages this year.
The Bookmobile In a celebration of the Public Domain, the Internet Archive's Bookmobile will be coming to a town near you, bringing with it the ability to access, download, and print one of the almost 20,000 public domain books currently available online. We're back! After a brief hiatus, the Bookmobile is back up and running. This winter, new bookmobilist Kirsten Webb will be visiting schools, parks, museums, farmers' markets, intentional communities, and other public places around the Bay Area and beyond.
Internet Archive: Bookmobile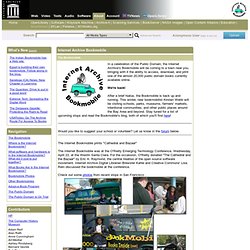 Contenidos de dominio público: ContenidosDeDominioPúblico