GTD
Herramientas e información sobre el método "Getting Things Done" GTD Jun 2
Free Pomodoro Timer and GTD Software | Time Management with Pomodoro Technique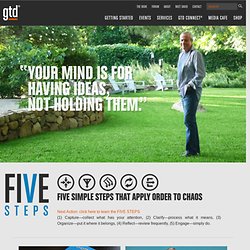 GTD® is the shorthand brand for "Getting Things Done®," the groundbreaking work-life management system by David Allen that provides concrete solutions for transforming overwhelm and uncertainty into an integrated system of stress-free productivity. GTD is a powerful method to manage commitments, information, and communication. It is the result of thirty years of consulting services, private coaching, training, and organizational programs with millions of people internationally.
GTD-para-dummies.pdf
TaskMilk
Getting Things Done
Getting Things Done (GTD) es un método de gestión de las actividades y el título de un libro de David Allen que en español se ha titulado 'Organízate con eficacia'. GTD se basa en el principio de que una persona necesita liberar su mente de las tareas pendientes guardándolas en un lugar específico. De este modo, no es necesario recordar lo que hay que hacer y se puede concentrar en realizar las tareas.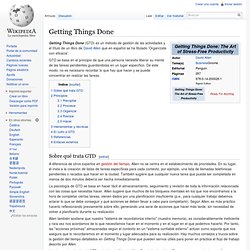 Videos de Berto Pena sobre GTD
GTD: mapa conceptual