GTD
Herramientas e información sobre el método "Getting Things Done" GTD Jun 2
Recurring to-dos Capture your daily, weekly and monthly to-dos. Subtasks Break big tasks intosmaller achievable goals. Share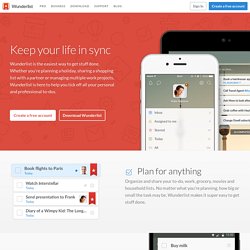 Free Pomodoro Timer and GTD Software | Time Management with Pomodoro Technique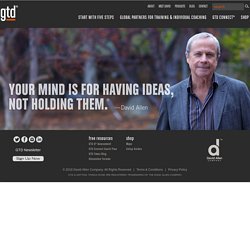 "Productive Living" is our free, educational newsletter. Each month you'll gain a wealth of valuable tips, tricks, and strategies from David Allen and the David Allen Company coaches to help you live a productive life—personally and professionally. Read some sample issues online: Your email address will not be sold or rented to any third parties. To change your address, please unsubscribe the old address and subscribe the new address.
GTD-para-dummies.pdf
TaskMilk
Getting Things Done
Getting Things Done (GTD) es un método de gestión de las actividades y el título de un libro de David Allen que en español se ha titulado 'Organízate con eficacia'. GTD se basa en el principio de que una persona necesita liberar su mente de las tareas pendientes guardándolas en un lugar específico. De este modo, no es necesario recordar lo que hay que hacer y se puede concentrar en realizar las tareas.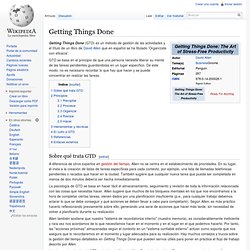 Videos de Berto Pena sobre GTD
GTD: mapa conceptual