Ressources Web
Top 5 Browsers from Jun 10 to Jun 11. PhoneGap. Photo Editing, Photo Sharing. Log in. ResizeMyBrowser. PXtoEM.com: PX to EM conversion made simple.
A Guide on Layout Types in Web Design. One of the most variable aspects of web design is the way in which we approach width and height in terms of measurements and flexibility.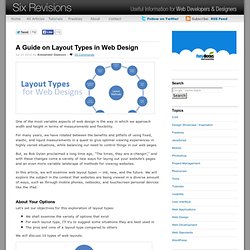 For many years, we have rotated between the benefits and pitfalls of using fixed, elastic, and liquid measurements in a quest to give optimal viewing experiences in highly varied situations, while balancing our need to control things in our web pages. But, as Bob Dylan proclaimed a long time ago, "The times, they are a-changin'," and with these changes come a variety of new ways for laying out your website's pages and an even more variable landscape of methods for viewing websites.
In this article, we will examine web layout types — old, new, and the future. We will explore the subject in the context that websites are being viewed in a diverse amount of ways, such as through mobile phones, netbooks, and touchscreen personal devices like the iPad. About Your Options. Gallery. Divine Elemente (plugin for photoshop). PSD to WordPress theme converter.
---